The injection of creative industries and individuals to revive neglected urban areas may be a relatively established ruse, but in the case of Shoreditch it is evidently successful. Before arriving at the Tea Building, I knew nothing of the design and technology cluster that had been reinvigorating London's inner East End since the 1980s.
When the bottom fell out of the commercial rental market in the area, Allford Hall Monaghan Morris (AHMM) responded with a series of strategic architectural and curatorial moves that saw the seven-storey brick warehouse reinhabited with an evolving collection of trending tenants.
The Tea Building is surrounded by the work of Hackney's prolific street artists, Box Park pop-up mall by Waugh Thistleton Architects, and the filmic luxe interiors of private members club and hotel Shoreditch House by Tom Dixon. Intrigue and creative capital in Shoreditch is booming.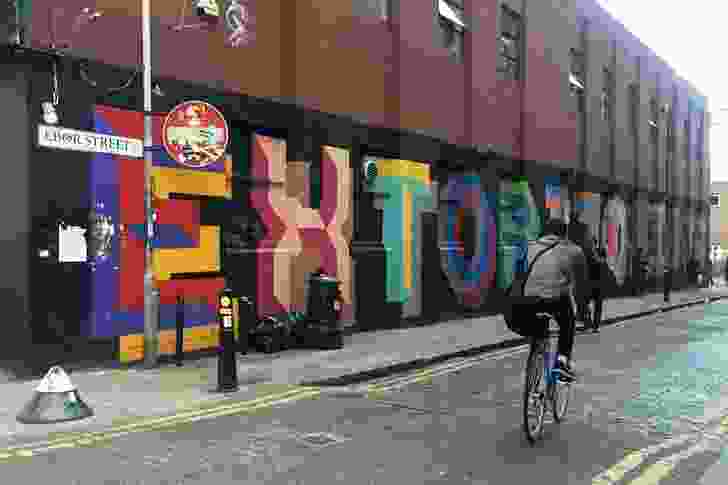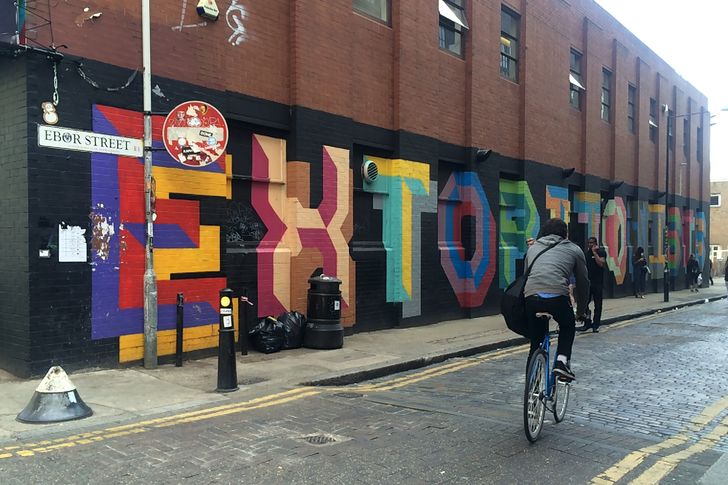 In Australia, there are numerous examples where artistic individuals and professionals have been co-located to form a collaborative- and area-rejuvenating hub. Conversely, creative areas with affordable rent are often disbanded through gentrifying market responses to the desire to buy-in to the cool. Breathe Architecture, the practice where I work, has enjoyed being involved in such projects, and tend to take on this issue by challenging established preconceptions of spatial requirements and building only what is required in an effort to pass construction savings on to users.
AHMM have refurbished the 24,100 square metre amalgam of interconnected buildings known as "Tea" and "Biscuit" progressively since 2001. Formerly a bacon curing or Lipton tea warehouse, the most recent development phase, "Green Tea," was a move to increase its ongoing sustainability by upgrading to more efficient lighting and heat exchange systems.
The interior has been stripped back to its imperfect masonry shell, with only the exposed services, lighting, openings and signage to adorn it. Specific necessary upgrades and interventions have kept the refurbishment costs to an absolute minimum, while enabling the tenancy shells to be fitted out and inhabited in a flexible and infinitely varied way.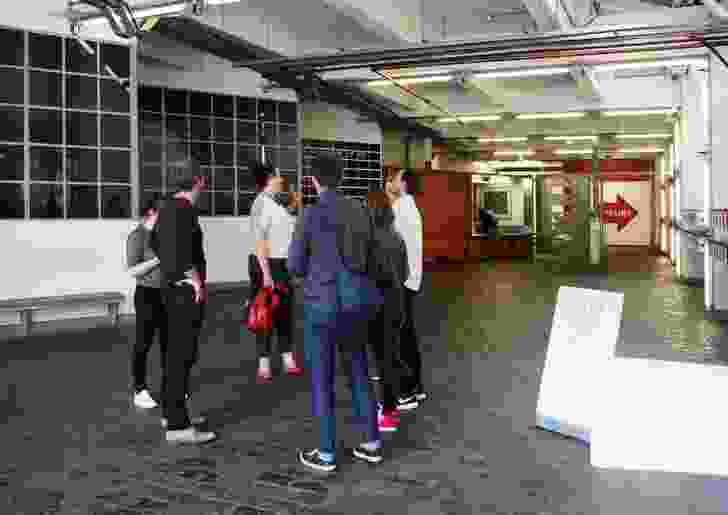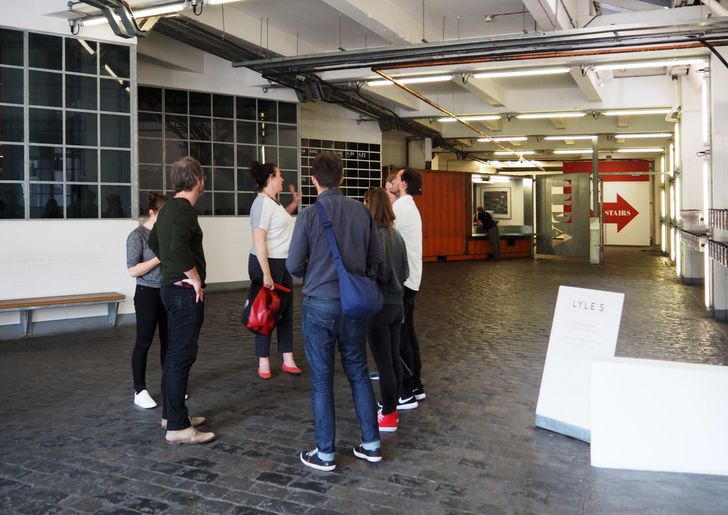 "Building more with less" is a mantra to which I constantly refer when practising back in Melbourne. Certainly AHMM's design tactics seem to have taken a similar approach and the outcome is both playful and engaging.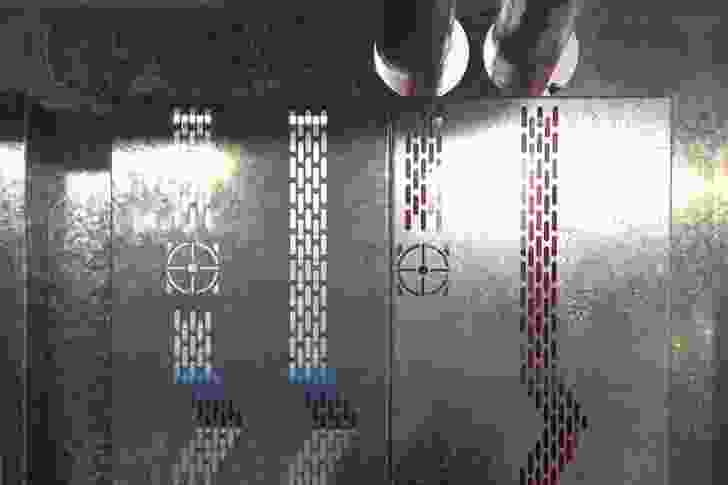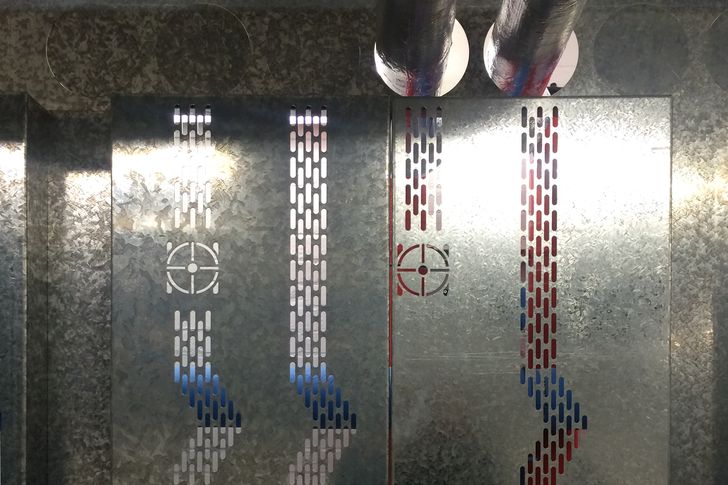 Replicable design parameters prescribe rules on what is retained and what is demolished, or how the pipe runs, cable trays, lighting plan, and palette are to be laid out, depending on where in the buildings you are. White painted brick walls and raw concrete floors are overlaid with a cohesive language of way-finding graphic signage by Studio Myerscough, and a series of perforated patterned services enclosures that embellish and tie the irregular series of spaces all together. Box Park opposite has furthered this approach by applying a style guide to each shipping container tenancy, resulting in a clear and strong image for savvy self-promotion.
While a combination of proximity, affordability, form and density were the main catalysts for the proliferation of the "creative class" in Shoreditch, it is also important to realise that the robust simplicity of these strategic responses is what has made the office spaces genuinely engaging. There is enough in the consistent gestures of AHMM's Tea Building for you to relate to and want to personalize. Creativity breeds creativity. So as long as the flexibility of studio space and rents allow, there is no reason to think that the area won't continue to evolve and reshape to maintain its vitality.
That said, since visiting a relatively recent and partly adaptive reuse college in London's King's Cross, it became clear that it could be easy to miss the point. These types of architectural gestures ought to be inbuilt, considered and resolved enough to inspire collaboration and enable a sense of ownership, without the distasteful hint of exploitation for creative capital.
The 2015 Dulux Study Tour visits Tokyo, London and Paris. Follow the tour on the blog here and via the #2015DuluxStudyTour hastag on Instagram here.
Related topics