Best Cafe Design
The Kettle Black by Studio You Me
South Melbourne, Victoria
Jury comment:
The Kettle Black sits at the apotheosis of cafe design right now – light, airy, spacious, where everything is carefully considered yet it all comes across as insouciant in the extreme. There's a knowing nonchalance to the asymmetry of the mosaic-floored entry with its deliberate juggling of disparate materials – an ordinary concrete construction pipe transformed through a lining of brass into a classy washbasin pretty much sums it up. Elegantly compelling, the lobby promises a stylish, poised dining experience that fills a unique niche between cafe and restaurant. And the dining rooms flanking the entryway fulfil that promise, with their warm oak joinery, brushed brass display racks and cheeky pistachio-coloured seating. One half of The Kettle Black occupies the ground floor of a Victorian manor, the other the base for a rather brutal new build. The skill is in melding those extreme contexts into a gracious new whole. The touch is light, but the effect is one of gravitas.
The Kettle Black
50 Albert Road
South Melbourne Vic 3205
thekettleblack.com.au
Studio You Me
kestie@studioyoume.com.au
hana@studioyoume.com.au
studioyoume.com.au/contact
Source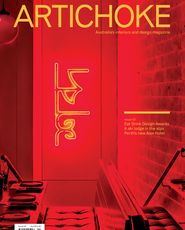 Issue
Artichoke, December 2015
Related topics