Best Cafe Design
Abbots & Kinney by Studio-Gram
Adelaide, South Australia
Jury comment:
Adelaide's Abbots & Kinney is 2015's poster child for excellence in craftsmanship. The expressed timber frame wall, with its horizontal and diagonal noggings, encourages the eye to move through the space, echoing the strong diagonal "split" between honey-coloured wood and matt black zones. The black floor, extending up the wall to bisect the ceiling, creates a sense of intimacy and enclosure. The central bleacher-style seating adds sculptural interest, but is also a paean to technique – its refined mortise and tenon jointing is an adaptation of a traditional Japanese self-suspension system. What's more, it's operationally functional, encouraging swift circulation of in-house traffic through the compact space. Simple wire-framed safety glass onto the kitchen and raw concrete on the floor speak of honesty and integrity but also a refinement of taste. In fact, it's in the play between the radical simplicity of the overall concept and the extraordinary accomplishment of the execution and finish that this little bijoux truly shines.
Abbots & Kinney
78 Pirie Street
Adelaide SA 5000
abbotsandkinney.com
Studio-Gram
Suite 406, 33 Pirie Street
Adelaide SA 5000
studio-gram.com.au
Source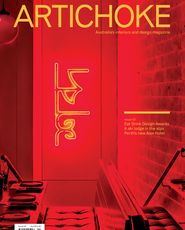 Issue
Artichoke, December 2015
Related topics