Best Temporary Design
Australian Pavilion Installation by Design By Pidgeon
St Kilda, Victoria
Jury comment:
The temporary Australian Pavilion Installation at restaurant Cafe Di Stasio shows that there is indeed something new under the sun. Effectively effacing the facade of the iconic St Kilda restaurant, the blackboard-like hoarding is punctuated by bright red vertical studs that frame small views of the action inside and provide a novel experience for the patrons within. This new take on the pop-up is not just another impermanent device for an itinerant experience but an ephemeral installation meaningfully hacked into a cultural institution. A vivid vote of confidence for the new Denton Corker Marshall-designed Australian Pavilion in the Giardini of Venice, a project for which restaurant owner Ronnie Di Stasio has long agitated, the installation forms a solid link between art, food, Australia and Italy – the very terrain on which Cafe Di Stasio so successfully operates. This is a brilliant piece of branding and a generous public gesture – that has more front than Myers.
Australian Pavilion Installation
Cafe Di Stasio
31 Fitzroy Street
St Kilda Vic 3182
distasio.com.au
Design by Pidgeon
147 Chapel Street
St Kilda Vic 3182
pidgeon.com.au
Source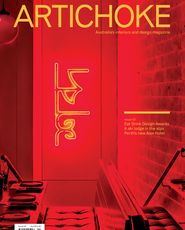 Award
Published online: 17 Nov 2015
Images: David Pidgeon, John Gollings
Issue
Artichoke, December 2015
Related topics