Jury comment
When old worker's cottages are renovated, it is typical for the existing rooms to be removed for the creation of an open plan. But at West End Cottage, the new work preserves and extends the pattern of rooms in respect of the existing plan. The existing house fabric is considered at all scales – from the larger planning decisions down to the timber-framed kitchen cabinetry. The result is a complete and integrated solution.
A raised courtyard delivers sun into the centre of the plan. It solves the dilemma of a house on stumps – mitigating the level change and connecting the interior to the larger garden beyond. Living areas are located to activate and engage with the street, promoting accidental civic interactions.
An "as much as necessary, as little as possible" approach to value management reduced the extent of new built work. A two-storey solution was condensed to a one-storey outcome through prioritization and efficiencies of occupation. The modesty of this work belies a greater contribution to the re-use and preservation of our existing vernacular and the role of neighbourhood streets in the civic hierarchy of our cities.
See full image galleries of all the winning and shortlisted projects here.
Award for House Alteration and Addition under 200 m2 is supported by Fisher & Paykel.
Products and materials
Roofing

Lysaght Custom Orb sheeting with bulk Bradford insulation.
External walls

Scyon Linea weatherboard in Resene Cool Colour 'Black' and Dulux 'Whisper White'; PGH Bricks bricks in 'Macarthur Mix,' 'Blackett,' 'Mowbray Blue,' 'Black and Tan' and 'Copper Glow'.
Internal walls

CSR plasterboard in Dulux 'Whisper White'.
Windows and doors

Allkind Joinery and Glass custom timber windows and doors.
Flooring

Blackbutt boards in Whittle Waxes finish.
Lighting

Modular Nude wall light; Modernica George Nelson Bubble lamp.
Kitchen

White laminate fronts in flint finish; marble benchtops; stainless steel benchtops; Fisher & Paykel ActiveSmart fridge; Bosch fully integrated dishwasher; Smeg oven and hob; Perrin & Rowe Oberon tapware.
Bathroom

Bluestone hexagonal mosaic tiles; Ram Tapware Park tap set.
Credits
Architect
Project Team

Aaron Peters, Stuart Vokes, Kirsty Hetherington
Consultants

Builder Robson Constructions
Engineer AD Structure

Site details

Location Brisbane, Qld, Australia
Site type Suburban
Category Residential
Type Alts and adds, New house, Residential

Project Details

Status Built
Completion date 2014

Source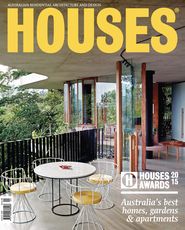 Issue
Houses, August 2015
Related topics