Jury comment
In this thoughtful project in inner-city Melbourne, the architect has combined a conscious design philosophy of "architecture as background" with the pragmatic requirements of accommodating an energetic and busy professional lifestyle. Even though the site for the project exists within an area protected by a heritage overlay, the original building was regarded as "non-contributory," meaning the architect had no formal heritage-related obligations that would influence design decisions. Confident but subtle architectural propositions have been made both in the functional organization of the dwelling and in its publicly visible form.
A sequence of activity spaces is interspersed with open areas to create a light and spatially expansive building. These spaces are well planned, enabling a sense of community while also providing privacy.
Clever material choice, deft form making and gentle disguise combine to create a fine addition to the heritage place. This project replaces a "non-contributory" building with one of note, providing a fine example of how considered judgements and design strength can offer new ways of dealing with our living environments.
See full image galleries of all the winning and shortlisted projects here.
Award for House in a Heritage Context is supported by Heritage Councils Victoria and New South Wales.
Source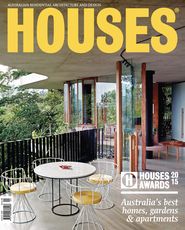 Issue
Houses, August 2015
Related topics