Jury comment
Setting aside the simple domestic-variety binary of inside and outside, Cut Paw Paw challenges typical notions of how we might use our outdoor spaces in an inventive and playful way.
A key element in unlocking the potential of the project brief is the straightforward row of steel portal frames behind the freestanding weatherboard home. Deliberately flirting with notions of the incomplete and the partially demolished, this project has a dynamism that lets the user take advantage of the best the climate offers, while also offering shelter when it needs to.
While the new industrial arbour utilizes a good amount of the available site, this project also shows that the architects know when to leave things well alone – the generous strip of less-defined open space grants all the living areas, both indoor and outdoor, year-round access to summer sun.
Cut Paw Paw is an intriguing and discerning surmise at what our outdoor spaces can be.
See full image galleries of all the winning and shortlisted projects here.
Award for Outdoor is supported by Artemide.
Source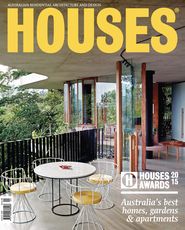 Issue
Houses, August 2015
Related topics