Jury comment
"Housing people, not cars" is the mantra for the QV8 apartment development, found within the base of a thirty-seven-storey tower in Melbourne's QV Block. The former car park is now home to eight households.
The existing structure and typology of the car park, characterized by sheer walls and a low floor-to-floor height, has been transformed into a series of long and generous apartments. Each apartment is open at both ends to achieve cross-ventilation, with a soon-to-be-intensely-planted terrace at the north taking full advantage of the view towards the magnificent State Library of Victoria across the street.
Although the layouts are relatively conventional and achieve a high number of bedrooms by an over-reliance on borrowed light, the interior achieves a certain drama through the distinctively low ceiling heights, which remind us of the building's original purpose. Ultimately the winning formula here is the successful adaptive re-use of existing infrastructure and repurposing of a car park for infill housing. This offers real lessons in sustainable solutions for our cities. May this be the first of many such conversions.
See full image galleries of all the winning and shortlisted projects here.
Award for Sustainability is supported by Verosol.
Source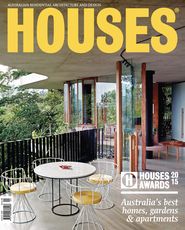 Issue
Houses, August 2015
Related topics