2015 AAA Awards: Gold Medallist
Gold Medal: Peter Stutchbury (Peter Stutchbury Architecture)
2015 Australian Achievement in Architecture Awards
Australian Institute of Architects
Jury citation
The recipient of the 2015 Australian Institute of Architects Gold Medal is Peter Stutchbury.
In his formative years, before and after graduating from the University of Newcastle in 1978, Peter Stutchbury lived and worked in regional Australia, Africa, Asia and Papua New Guinea, and also visited Europe and America. This early experience gave him the opportunity to explore unique landscapes and study indigenous responses to the creation of shelter in varying environmental conditions. In those years, Stutchbury physically constructed eight projects, which allowed him to develop his appreciation of the craft of making architecture.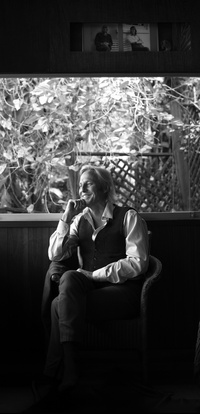 In thirty-four years of practice, Stutchbury has mastered the art of creating architecture that speaks of the place it inhabits – buildings that are environmentally sustainable, culturally specific and locally embedded. Stutchbury's buildings also exhibit deft use of simple, readily available materials to produce sophisticated details that celebrate the intrinsic qualities of locally sourced materials and trades. What is most remarkable about his work is the clarity of his response to program and environment, instantly accessible to all who see and experience his buildings.
Stutchbury established his own practice in 1981. Initially called Stutchbury Architects, his practice became Stutchbury and Pape with landscape architect Phoebe Pape in 1991, before it was relaunched as Peter Stutchbury Architecture in 2007. His firm has received forty-seven Australian Institute of Architects awards, has won or been placed in approximately twenty national and international design competitions, has been published in around two hundred books and publications, and has been exhibited in Australia, Europe, America and Asia.
While the work of Peter Stutchbury Architecture is best known for its residential responses to unique Australian regional landscapes, Stutchbury's work is not limited to this genre. The firm's awarded projects include public works in urban environments, and in recent years Stutchbury has successfully applied his meticulous, site-sensitive design approach in international locations as diverse as Japan, Vanuatu and Russia.
As well as being a prolific producer of built works, Stutchbury has also been engaged in teaching throughout his career. He is a Professor in Architecture at the University of Newcastle, has taught design at several Australian universities, and has been a guest professor at a number of international universities. Stutchbury has taught at the Architecture Foundation Australia's Glenn Murcutt International Architecture Master Class since its inception in 2001 and has been a regular contributor to the Foundation's South Pacific, New Zealand and South African Master Classes. He continues to be a regular guest speaker at national and international conventions, having delivered in the order of 150 public lectures.
Stutchbury's standing in the profession is evident in the calibre of colleagues who count him as a cherished friend and who are active advocates of his contribution to architecture in Australia and internationally. Of particular relevance are the past and present employees who have been nurtured in the studio of Peter Stutchbury Architecture and count Stutchbury as a valued mentor.
Committed to advancing Australian architecture through practice, teaching and participation in broad-based professional activities and organizations, including the Australian Institute of Architects, Stutchbury is also a founding member of the Australian Architecture Association and a founding director of the Architecture Foundation Australia.
For his contribution to the advancement of architecture, Peter Stutchbury is a worthy recipient of the Gold Medal.
Jury
David Karotkin FRAIA (chair) Australian Institute of Architects National President, managing director Sandover Pinder Architects (WA); Paul Berkemeier LFRAIA Australian Institute of Architects Immediate Past President, Paul Berkemeier Architect (NSW); Karen Davis FRAIA principal CDA Architects (Tas); Maggie Edmond LFRAIA principal Edmond and Corrigan (Vic); Phil Harris FRAIA 2014 Gold Medallist (with Adrian Welke), founding director Troppo Architects (SA).
Acknowledgement
"I am indebted to my colleagues for their talent, integrity and ethics. This special blend of people enables a wealth of outcomes. Thank you to all of our contractors and consultants, including photographer Michael Nicholson, engineer Max Irvine and landscape architects Phoebe Pape and Craig Burton, and our staff – past and present." – Peter Stutchbury.
Staff, past and present: Amee Allsop, Maria Aragao, Kota Arai, Ann Bassett, Signe Bech Nielsen, John Bohane, Leni Borg, Casey Bryant, Fernanda Cabral, Vanessa Carnevale, Genni Castelli, Jocelyn Cheu, Piero Chiefa, Anne Commeaux, Sam Crawford, Sarah Creedy, Nichole Darke, Federica De Vito, Harriet Duetz, Julie Fraenkel, Jessica Grobbelaar, Sue Harper, Rachel Hudson, Marika Järv, Paul Johnson, Kira Jovanovsky, Katrina Julienne, Yuki Kajigaya, Shiku Kamugi, Belinda Koopman, Helen Mackay, Stefano Manuelli, Matt Markham-Lee, Laura Dewe Mathews, Caryn McCarthy, Jennifer McMaster, Grant Mears, Franziska Militz, Denis Moore, Nic Moore, Charlotte Nelms, Phoebe Pape, Chris Patterson, Claudia Pickering, Luke Pigliacampo, Katrina Piper, Adriano Pupilli, Amelia Robson, Ulrika Saar, Fergus Scott, Martina Shelley, Eleri Smith, Richard Smith, James Stockwell, Bronte Stutchbury, Noah Stutchbury, Jonathon Temple, Emma Trask Ward, Nielsen Warren, Sacha Zehnder, Josh Zeunert.