Project statement
The Wastescape project investigates permissible metaphors of "waste" in the landscape, as discussed by author and academic Mira Engler. The site for this investigation, Garden Island in Port Adelaide, is a former landfill fringed by significant mangrove ecologies and the adjacent Torrens Island Power Station.
Using the warm waste water from Torrens Island Power Station, Garden Island would be transformed into an outdoor spa experience that retains and enhances important existing ecological and historical elements, including a dolphin sanctuary and nursery, a mangrove forest and a shipwreck experience.
As the hot water enters the site it would make its way through the landscape in two separate paths. The first would go through a series of cooling ponds, where the water cools to the correct temperature for the spa. It would then enter into the main spa space and pass into the accommodation area, down through a series of filtering ponds. At this point the water is the correct temperature for the calcite minerals to be easily removed, before passing out into the estuary.
The second path would go through a series of cooling ponds and into the high-end accommodation and private bathing spa experience facilities. The water is then gravity-fed into a series of waste mound landscapes that would grow over time, showing the conversion of waste into a unique landform made from the deposited calcite. The water is then processed and cleaned through filtering ponds before entering the island's estuary. Amenities would be added and upgraded around the site, including a boardwalk to the shipwrecks, a new cafe, and showering/bathing facilities. A free, open public pool would also be added to the public area.
Source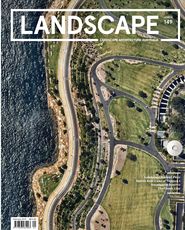 Issue
Landscape Architecture Australia, February 2016
Related topics