Jury citation
The Adelaide Oval Redevelopment is a landmark public design project for the city of Adelaide. Its innovative use of steel has provided the material and structural means to give shade and shelter at human scale, to solve complex functional challenges and to impart a spectacular sense of spatial expression and occasion for the facility's year-round sporting and cultural events. The concept of three pavilions, each framed and roofed in steel and of a different but formally related character, located above a sandstone-coloured massive base and sitting in a park landscape, has allowed each different section of the stadium to feel like a special place. At the same time, the language of the floating, column-free, white diagrid structure common to each pavilion unifies the whole composition.
Especially noteworthy is the carefully engineered lightness of the pavilion roofs' steel members and the white PTFE fabric (Teflon-coated fibreglass) roofs, which give the impression of elegant umbrellas in the park. This lightness is accentuated by each pavilion roof sitting well above the uppermost seating plats, which visually and functionally allows the entire stadium to "breathe." The jury found the new Southern Stand's roof structure to be particularly breathtaking in its scale. Formed by a single curved shell with a stiffening perimeter truss, it too has been engineered to achieve maximum visual lightness. The whole stadium appears framed and ready for the excitement of a game or a concert. In a brilliant move, the architects retained at the stadium's northern end the much-loved grassy landscape of the hill next to the historic scoreboard. This outstanding public structure is not just an exemplary piece of architecture and engineering design, it has also revitalized one of Adelaide's most important public places and it is the result of an exceptional collaborative venture between architects, engineers and steel fabricators.
Read a project review by Stephen Ward from Architecture Australia July/August 2015.
Credits
Architect

Cox Architecture
Australia
Project Team

Adam Hannon (project architect); Patrick Ness (design architect); Alastair Richardson (project director); Ian Hore (director); Anthony Balsamo (urban lead); Michael Lambert (planning lead); Soren Fischer (facade design); Mee Kim Kyong (facade lead);, Joachim Clauss (roof lead); Stuart Harper (roof team); Naomi Evans (urban and facade team); Chin Tan, Kirsty Dicker, James Thompson, Kate Holford, Amos Dahlitz
Architect

Hames Sharley
Australia
Architect

Walter Brooke
Adelaide, SA, Australia
Consultants

Building surveyor Katnich Dodd
Contractor Lend Lease
Cost manager Rider Levett Bucknall – Melbourne
Landscape architect Oxigen Landscape Architects
Project manager Mott MacDonald
Services engineer Aurecon, AECOM
Structural engineer Arup, Wallbridge & Gilbert

Site Details

Location Adelaide, SA, Australia

Project Details

Status Built

Source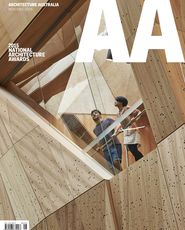 Issue
Architecture Australia, November 2015
Related topics