Jury citation
The Melbourne School of Design (MSD) has given the University of Melbourne a building of outstanding quality and delivered a complex educational program. As an urban design move, it clarifies circulation in this part of the Parkville campus. The building successfully engages with its context in distinctively different ways, such as the sculptured landscape of the south lawn above the building's submerged library and the activated main entry court to the east. The Joseph Reed-designed heritage facade is skilfully integrated both internally (with humour) and externally through the juxtaposition of finely detailed perforated corrugated zinc sunscreens. A major circulation path runs through the building. This has the benefit of showing off the MSD's workings, such as the digital fabrication laboratory, timber workshop and library. There are also two major exhibition spaces on the ground floor. Education is on full display.
Every space within the building is exploited to create breakout spaces, learning and study opportunities and places for functions and events. The spectacular central atrium, with its finely detailed suspended timber-clad studios, provides excellent visual and physical interconnection between students and staff. The building explains its operation through architecture. It reveals layers of construction as tools to teach. The exposure of building systems, jointing techniques and operable elements like windows and partitions is a lesson in itself. A high level of detail is evident throughout the building, in spite of the variety and complexity of spaces and functional requirements.
The Melbourne School of Design sets new standards in the design of education facilities. It takes every opportunity to foster collaboration in undergraduate and graduate research, teaching and learning as well as cleverly integrating a variety of materials and construction and fabrication techniques. The building is itself an education vehicle, a veritable architecture of pedagogy.
Read the project review by Sandra Kaji-O'Grady from Architecture Australia Jan/Feb 2015.
Credits
Architect

John Wardle Architects
Melbourne, Vic, Australia
Project Team

John Wardle, Stefan Mee (principals-in-charge); Meaghan Dwyer (senior associate); Stephen Georgalas (project manager); Bill Krotiris, Andy Wong, Jasmin Williamson, Adam Kolsrud, Alex Peck, Barry Hayes, Jeff Arnold, Amanda Moore, James Loder, Danny Truong, Stuart Mann, Meron Tierney, Kenneth Wong, Sharon Crabb, Yohan Abhayaratne, Rebecca Wilkie, Ben Sheridan, Giorgio Marfella, Kirrilly Wilson, Elisabetta Zanella, Adrian Bonaventura, Genevieve Griffiths, Michael Barraclough, Matthew Browne, Maria Bauer, Anja Grant (team), Nader Tehrani (principal-in-charge); John Chow (project manager); Arthur Chang (design coordinator); Katie Faulkner, James Juricevich, Parke MacDowell, Marta Guerra Pastrián, Tim Wong, Ryan Murphy, Ellee Lee, Kevin Lee, Rich Lee (team)
Architect

NADAAA
United States
Consultants

Accessibility consultant One Group ID
Acoustic consultant AECOM
Audiovisual consultant Avdec
Building certifier McKenzie Group
Building services Umow Lai
Building sustainability commissioning agent A.G. Coombs
Civil and structural engineer Irwinconsult
ESD Umow Lai
Electrical and mechanical engineer Aurecon
General contractor Brookfield Multiplex
Geotechnical engineer Douglas Partners
Heritage architect RBA Architects and Conservation Consultants
Interior designer John Wardle Architects, NADAAA
Landscape architect Oculus Landscape Architecture & Urban Design
Lighting designer Electrolight
Project manager Aurecon
Quantity surveyor Rider Levett Bucknall – Melbourne
Security Aurecon
Traffic engineers Cardno

Site Details

Location Melbourne, Vic, Australia

Project Details

Status Built
Category Public / commercial
Type Universities / colleges

Source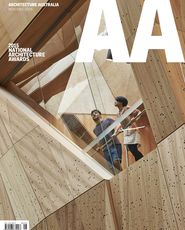 Issue
Architecture Australia, November 2015
Related topics