Jury citation
The University of Queensland Global Change Institute (GCI) embodies a holistic, integrated approach to ecological design that deserves special celebration as it achieves architectural excellence while pushing forward the frontiers for sustainability. The project was awarded because of its comprehensive and extensive incorporation of sustainable measures, from passive, low-tech strategies to more innovative active technologies, using the building and the research generated within it to educate and partner with industry while at the same time creating uplifting architecture conducive to an inviting, healthy working environment.
The GCI is a living experimental model with ongoing monitoring, guided by the Living Building Challenge, and it will continue to offer leadership in innovations combating global change. It is a 6-star Green Star certified building, targeting net zero energy and a carbon-neutral footprint in its operation. Its sustainable measures include: renewable solar energy captured and stored in the building, natural ventilation for 88 percent of the year, an innovative translucent ETFE (a fluorine-based plastic) triple-skin atrium roof, a green wall that naturally filters the air, operable layered facades that contribute to thermal comfort, the first use of cement-free structural geopolymer concrete (made from fly-ash), a labyrinth for passive cooling and innovative use of recycled materials. It is an infill development incorporated into an adjacent heritage building, there is "task air" available at each desk which can be altered individually and, in the building's daily operation, there is collaboration with multiple disciplines and research experts to develop innovations and products relevant to industry.
The jury appreciated the discreet expression of sustainability. This is not an architecture of gadgets but a highly sophisticated building addition that is respectful to its historic neighbour and has made a substantial contribution in its own right as an aesthetic composition. The spaces of the open office floors are dignified by cleverly designed workstations and exposed sculptural precast floor panels with chilled water flushed through them. The building's sky-lit atrium is a triumph, transforming a former service zone into a showpiece for the university. This is a project that successfully combines architectural excellence and ecological sustainability.
Credits
Architect

Hassell.
Australia
Project Team

Robert Keen, Matthew Larme, BP Loh (project architects); Mark Roehrs (design architect); Troy King, Catherine van der Heide (interior designers); Nguyen Luu (BIM manager); Michael Copeland
Consultants

Acoustic consultant Arup
Builder McNab Constructions
Building surveyor Certis Group
Electrical and mechanical consultant Medland Metropolis Brisbane
Environmental consultant Arup
Hydraulic consultant SPP Group
Landscape and interior design Hassell.
Lighting consultant Medland Metropolis Brisbane
Structural and civil consultant Bligh Tanner

Site Details
Project Details

Status Built
Category Public / commercial
Type Universities / colleges

Source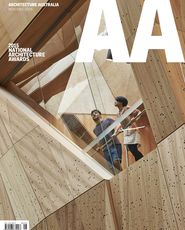 Issue
Architecture Australia, November 2015
Related topics