Jury citation
The jury was impressed by the contribution the UTS Science Faculty's Building 7 makes to the university's Ultimo campus masterplan. It is a lively, architecturally inventive learning and research environment. The architects developed a powerful concept by wrapping the largely rectilinear program of laboratories with undulating and canting building forms that contain circulation and breakout spaces. The combination of natural light from openings in the roof, the organic forms of the walls and balustrades, the reflective surfaces of the mosaic-covered walls and the carefully chosen colour palette provides a delightful array of spaces and experiences. It is a tribute to the architects that the subterranean spaces enlivened by shafts of natural light are just as successful and delightful as the upper levels.
The building's rippling facades make a strong and forthright contribution to the public domain. By curving and canting the building form, the architects have brought maximum sunlight to the Alumni Green to the south – a major recreational student space for the campus. The building is integrated internally by a wonderfully sinuous and generous stairway connecting levels two through to seven. This stair provides opportunities for interaction and chance encounters between the building's occupants.
The concertina-like sequence of double layers of offset windows contributes to excellent workspaces for research students and staff. These large unfolding spaces are given a wonderful and appropriate sense of scale and rhythm by the varying widths and colours of the windows, reinforced by pendant light fittings.
An additional layer of delight is added through the architect's personal touches, such as the large baked enamel mural pivot doors with their clear tributes to Le Corbusier; the Southern Cross clusters of downlights; and the all-green lecture theatre, its ceiling studded with laboratory beaker lights and that splash of pink in one corner.
Read the project review by David Neustein from Architecture Australia May/June 2015.
Credits
Architect

Durbach Block Jaggers Architects
Sydney, NSW, Australia
Project Team

Durbach Block Jaggers: Neil Durbach, Camilla Block, David Jaggers, Stefan Heim, Erin Field, Deborah Hodge, Sarah Kirkham, Xiaoxiao Cai, Alex Holman, BVN: Abbie Galvin, Paul Pannell, Elena Bonanni, Kristin Neise, Erika Halim, Manny Prouzos, Ian James, Michael Janeke, Benjamin Chew, Laura Robinson, Valentine Steisel
Architect

BVN Architecture
Melbourne, Vic, 3000, Australia
Consultants

Accessibility consultant Morris Goding Accessibility Consulting
BCA Steve Watson & Partners
Colour consultant Lymesmith Polychromy
Cost consultant Davis Langdon, AECOM
ESD, mechanical and electrical consultant Steensen Varming
Facade consultant Surface Design, Kingston Building Group
Fire and hydraulic consultant Arup
Greenstar consultant Steensen Varming
Landscape architect ASPECT Studios
PCA Steve Watson & Partners
Planner JBA Urban Planning
Project manager Savills Project Management
Structural engineer Taylor Thomson Whitting

Site Details

Location Sydney, NSW, Australia
Site type Urban

Project Details

Status Built
Completion date 2014
Category Education
Type Universities / colleges

Source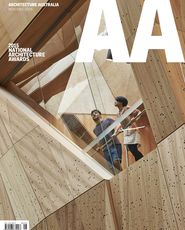 Issue
Architecture Australia, November 2015
Related topics