Jury citation
As a model for multiple housing in the contemporary city, Upper House stands tall. Its program is innovative and well conceived: the strategy of creating a communal platform at the present council height limitation has benefited developer, user and the city. It allowed the council to re-evaluate its height policies, knowing that the community within the building was to benefit from this dedicated communal platform. It gave the city a new place from which to reflect on itself and its inherent grandeur, and it also allowed the developer to build an additional five levels on a reduced footprint, to a new considered height.
Upper House's internal communal living room is inserted at this break in levels, opening onto an outdoor recreation platform with a breathtaking view of the Melbourne skyline. The building's form benefits from this welcome indentation of fenestration and the surprise addition of greenery, which reads in the day as a deep shadowed platform and at night as an illuminated horizontal light band linked with the lit louvred hallway windows of the tower.
Upper House is also expertly articulated in a formal sense. At street level, the ground floor appears as a tough base to service the apartment community above. It reads as a dark shadow from which the vertical residential box overhangs and its occupancy can and will change as all retail does at street level. The almost square building site offered the architects a clear geometric approach. The vertical container is punctuated with steel balcony boxes that create a syncopated rhythm on all four vertical facades. This tactic also creates protected external spaces for each apartment. The architecture of precast concrete panels in the lower section and sheer glazing for the upper portion of the tower is precise and the pod balconies that pop out randomly are a masterstroke of simplicity, delivering interior privacy and visual rhythm. A commercially driven project, it also offers clever, well-detailed internal planning and at all times a sense of quality and correctness. It is an excellent example of multi-unit highrise development.
Read the project review by Kerstin Thompson from Architecture Australia May/June 2015.
Credits
Architect

Jackson Clements Burrows Architects
Melbourne, Vic, Australia
Project Team

Tim Jackson, Jon Clements, Graham Burrows, Chris Manderson (project architect), Blair Smith, Simon Topliss,
Consultants

Acoustic engineer Acoustic Logic Consultancy
Builder Hamilton Marino
Building surveyor Reddo
Fire engineer Thomas Nicolas
Services engineer ALA Consulting Engineers
Structural engineer Rincovitch Consultants

Site Details

Site type Urban

Project Details

Status Built
Completion date 2014
Category Residential
Type Apartments

Source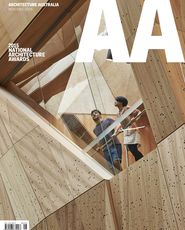 Issue
Architecture Australia, November 2015
Related topics