Jury citation
This interior fitout is a spectacular response to the brief for Medibank's new "activity-based" workplace. The project is intended to be a physical manifestation of the organization's transformation from a traditional health insurance business to one with a focus on health and wellbeing. Colour, lighting and loose and fixed furnishings are employed to provide spaces suitable for a wide range of activities. The central atrium, linked by staircases and spiralling ramps, creates physical and visual connections across the workplace. This device has been exploited by the designers to provide simple and direct circulation through a complexity of departments and sections.
Individual quiet working rooms, open communal areas, libraries and meeting rooms have been successfully designed to facilitate a flexible, creative and collaborative style of working. Complex programmatic requirements, including acoustic requirements, have been met through the judicious juxtaposition of compatible functions. This is evident in the placement of the multipurpose sports court at ground level, enabling people to participate in more vigorous physical activity during the day. The court is next to an edible garden, conveniently located near a demonstration kitchen used by Medibank to promote healthy eating by staff.
Read the project review by Philip Vivian from Architecture Australia Jul/Aug 2015.
Credits
Architect

Hassell.
Australia
Project Team

Mark Loughnan, Ingrid Bakker, Robert Backhouse, Steve Coster, Anthony Dickens, Travis Hemley, Robin Deutschmann , David Andrew, Kevin Cullis, Matthew Mackay, Mary Papaioannou, Harley Vincent, Trevor Coolledge, Jacqui Low, Ian Grant, Joel Sampson, , Greta Stoutjesdijk, Allison Armstrong, Yi Zhen Kueh, Brenton Beggs, Andrea Giuradei, Benjamin Kronenberg, Bethany Mann, Biljana Lojanica, David Simpson, Ecknaathh Bala, Harry Hrissis, Hendy Wijaya, Horaci Sanchez, Jack Barlow, Julia Zaritaskaja,, Maria Bauer, Michael Fouche, Molly Hibberd, Patrick Hamilton, Darren Paul, Pauline Vivaldi, Robbie Peirce, Shalom Ling Choong, Simon Rich, Steven Paul, Stuart Dow
Consultants

Building surveyor McKenzie Group
Civil Consultant (base building) WSP Lincolne Scott
Cost Consultant (fitout) Altus Page Kirkland
Design collaborators Russell & George, Kerry Phelan Design Office, Chris Connell Design
Developer Cbus Property
Electrical, Acoustic, ESD, Hydraulic, Mechanical, Lighting, Audio Visual (fitout) Norman Disney Young
Green wall design FytoGreen Australia
Landscape contractor FytoGreen Australia
Project Management (fitout) Montlaur
Project management Project Planning and Management
Quantity Surveyor (base building) Davis Langdon
Signage and wayfinding Fabio Ongarato Design
Statutory Planning JH Town Planning
Structural Engineering (fitout) WSP
Structural consultant 4D Workshop
Wind Engineering MEL Consultants
Workplace strategy Veldhoen + Company

Site Details
Project Details

Status Built
Category Public / commercial

Source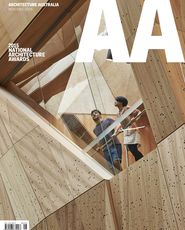 Issue
Architecture Australia, November 2015
Related topics