Jury citation
The interior of The University of Queensland Global Change Institute demonstrates the architect's and client's commitment to best practice environmental design. The building has a natural affinity with the educational message of global change. The central atrium provides a calm respite space removed from the hum of an active campus. Anchored in its local historic context, the building has a spatial layout centred on opportunities for passive ventilation, natural light and internal vegetation. The natural environment is controlled and measured through computer-driven operable facade screens. A rich material palette of recycled timbers and repurposed carpets contrasts with exposed geopolymer structural precast concrete soffits (the latter a world first).
These objectives have been achieved through the provision of excellent interior spaces. Working environments have been created that provide a wonderful balance between privacy and opportunities for collaboration. The exposed structural elements have been integrated with the interior spaces with notable balance and restraint. The full- height glazing provides exceptionally elegant workspaces with views of the campus filtered by external screens.
The internal atrium works particularly well as a gathering and meeting place for staff and students alike. The stairs and open circulation corridors that flank the atrium give excellent internal views and visual connections. The visual integration of the environment control systems, including the green wall, gives the building's interiors a rare richness and refreshing honesty.
Credits
Architect

Hassell.
Australia
Project Team

Robert Keen, Matthew Larme, BP Loh (project architects); Mark Roehrs (design architect); Troy King, Catherine van der Heide (interior designers); Nguyen Luu (BIM manager); Michael Copeland
Consultants

Acoustic consultant Arup
Builder McNab Constructions
Building surveyor Certis Group
Electrical and mechanical consultant Medland Metropolis Brisbane
Environmental consultant Arup
Hydraulic consultant SPP Group
Landscape and interior design Hassell.
Lighting consultant Medland Metropolis Brisbane
Structural and civil consultant Bligh Tanner

Site Details
Project Details

Status Built
Category Public / commercial
Type Universities / colleges

Source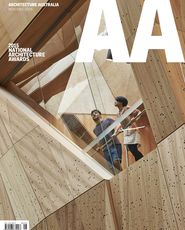 Issue
Architecture Australia, November 2015
Related topics