Jury citation
The Pico Branch Library in Santa Monica, California is a delightful example of community architecture and urban design that creates multiple opportunities for public engagement. The project was developed in close collaboration with the local community, who participated in a series of highly productive consultative public design and programming workshops. Key to the project's success was that the library was conceived as a community "living room" that would actively engage with the adjacent public park, thus encouraging the use of an educational resource in a minority neighbourhood.
The library's formally playful design involved not only the creation of a beautifully folded sculptural roof over a light and airy reading room, but also the melding of new and existing buildings with the 2005 Koning Eizenberg Architecture-designed landscape for Virginia Avenue Park (the first US park to achieve LEED certification). To cope with a regulatory need for what's called in the US a "fire lane," the building was split in two: on one side, the library; on the other, a much-needed community room that is clad in perforated steel sheet and opens onto an outdoor amphitheatre. Roofing the fire lane is a bank of photovoltaic panels that works like a pergola, bringing dappled light to the access way, which is treated not as a service lane but as an urban pedestrian spine connecting neighbourhoods north and south of the park. The jury was impressed by the ability of this diminutive project to bring not just urban clarity and focus to the neighbourhood but also, with limited means, such formal ingenuity.
The blurring and overlap of public functions is clever. One day there'll be a farmers' market in front of the library's acid-green fabric canopies; on another it will be families enjoying picnics in the park, playing basketball and throwing frisbees across the introduced grass mounds. This project exemplifies Koning Eizenberg Architecture's longstanding dedication to community participation and to finding design richness in the programmatic and budget-challenged environment of small-scale institutional architecture.
Koning Eizenberg Architecture was profiled by Philip Goad in Architecture Australia Jul/Aug 2015.
Credits
Architect

Koning Eizenberg Architecture

Project Team

Julie Eizenberg (project architect), Nathan Bishop (project designer)
Consultants

Acoustic consultant Veneklasen Associates
Builder RC Construction Services
Building surveyor JMC2
Civil consultant KPFF
Cost consultant C. P. O'Halloran
Environmental consultant Brightworks
Geotechnical consultants GeoDesign
Landscape consultant Spurlock Poirier
Lighting consultant Lighting Design Alliance
Mechanical consultant Glumac
Structural consultant Thornton Tomasetti

Site Details
Project Details

Status Built
Category Public / commercial
Type Libraries

Source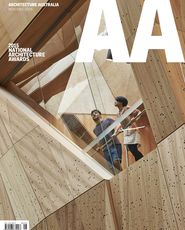 Issue
Architecture Australia, November 2015
Related topics