Jury citation
The jury found this slimmest of residential slabs on a 126-square-metre site in Surry Hills, Sydney to be an exciting prototype for creatively rethinking tight inner urban locations. The project exemplifies the potential to insert diverse dwelling typologies that might also function as commercial space. It takes a robust, almost generic approach to flexibly planned space, servicing and a maximized provision of light, air and ventilation. The project acknowledges the city as a rich fabric that can evolve and be added to with respect. The height of Studios 54 follows that of its neighbour. There's a shop at ground level and four single-floor apartments and a communal roof terrace above. Each apartment has a long open floor space that runs from the front to the rear and includes a generous balcony overlooking the street and an outdoor terrace at the rear. The southern wall of each apartment is a thickened "wall" of services that includes the elevator and its outdoor vestibule, kitchen, bathroom and laundry.
On the street facade, each apartment has a different and boldly coloured canvas blind (red, yellow, green and blue) that can drop down and create another "room." The framed element that signifies the lift core and the thickened wall of services has its internal panel tiled with glazed ceramic tiles. We could be in Naples, not Sydney. But this is the point. Studios 54 is a project that announces the larger and necessary project of consolidating the Australian city.
Studios 54 will be reviewed in Architecture Australia Jan/Feb 2016.
Source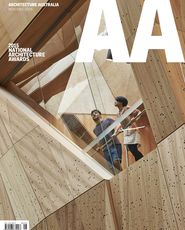 Issue
Architecture Australia, November 2015
Related topics