Jury citation
Through the old sawmill shed, the jury is escorted up a steep old steel-gridded ramp covered in blackberries, to meet the architect's brother and client and to stand on a tower overlooking the site: "This is the best view of it." And this is where the bird's-eye view resonates.
The Sawmill House is one of understated brilliance, read from above as a long rectangular block, hugging the landform at its rear and flat-roofed with what appears to be a sliding roof section. A long timber-boarded verandah runs parallel to the rectangular house form and in front, the site drops away into what looks like an old dug-out pit. From above, one can see that there is a void behind the house, also dug out from a rear earth mound and lined with the same concrete blocks from which the house is constructed. Is this an ancient site, a ruin or an old quarry?
The concrete building blocks of the house are intriguingly huge. They appear made for giants. They are the recycled wastage of concrete from road making, road barriers and commercial building sites, recognizable by their colour. The blocks are uniform only in their tonnage; they bulge and angle, and stay in place by sheer weight and some slurry.
The rectangular house form is completed by occasional timber-steel columns and hidden beams supported on the blocks. When the equally long sliding door and roof are opened, the house almost disappears as one giant oculus is revealed and half the house is outdoors again. The verandah is balustraded from the pit below, with a set of equally long full-height bifold sliding trellis doors.
The interior – one long rectangular space – is just as clever. It's another lesson in "less is more." The eastern end wall is a pivot glass door that opens onto a grass lawn. The long rear southern wall, brass-clad, stores a concealed bathroom, an exposed kitchen and, behind a double-thick hinged insulated door, an opening to the southern-facing block-lined dug-out void, which acts as a cooling "sink" on heatwave days.
In just this simple space, there is daily life, work, bed, hearth, bath, verandah and sky – beauty, invention and ingenuity all in one.
Read the project review by Stuart Harrison from Houses 106.
Products and materials
Roofing

Lysaght Klip-Lok roof decking in black.
External walls

Baxters Concrete reclaimed concrete blocks; macrocarpa timber.
Internal walls

Brass-clad joinery by Archier in apple cider vinegar finish; Baxters Concrete concrete blocks; red stringybark and narrow- leaved peppermint timber walls by Corsair Sustainable Timbers.
Windows

Timber windows by Archier and Agency of Sculpture in burnt/tung-oil finish; Reflex Glass glazed units.
Doors

Custom door hardware in brass and custom doors in burnt/tung-oil finish, both by Agency of Sculpture.
Flooring

Red stringybark and narrow-leaved peppermint timber flooring in tung-oil finish by Corsair Sustainable Timbers.
Lighting

Highline timber light, Highline brass light and Hex downlight, all by Archier.
Kitchen

Brass joinery by Archier; island bench in mild steel by Agency of Sculpture.
Bathroom

Custom copper sink; raw steel toilet roll holder by Agency of Sculpture; timber shower base in tung-oil finish by Archier; chrome taps.
External elements

Whale lawn sprinkler in stainless steel by Agency of Sculpture.
Other

Custom furniture throughout by Archier and Agency of Sculpture.
Credits
Architect

Archier
Melbourne, Vic, Australia
Project Team

Chris Gilbert, Benjamin Gilbert
Consultants

Builder Ben Gilbert (owner)
Engineer Don Moore & Associates
Furniture Agency of Sculpture, Archier
Landscaping Agency of Sculpture

Site Details

Site type Rural
Site area 4500 m2
Building area 160 m2

Project Details

Status Built
Completion date 2015
Design, documentation 1 months
Construction 12 months
Category Residential
Type New houses

Source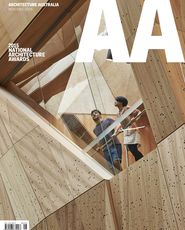 Issue
Architecture Australia, November 2015
Related topics