Jury citation
The jury found the Balmoral House to be unusual in its generosity to the street and the community. The most compelling gesture of this house is its striking sculptural composition, when seen from the street and in relationship to the captured views of distant bush and the harbour. Concrete forms are stacked on top of one another – overhanging at street level, they create a dramatic opening below for anyone to peer through. It gives back to the passer-by the view of Balmoral's headland lighthouse, while allowing that same passer- by to look through the owners' personal garden space to a concrete sculpture platform and the wild headland beyond. This is a truly exemplary public gesture formed in architecture, to the credit of both architect and client.
The house has been cleverly manipulated to offer this public gesture at ground level while maintaining domestic privacy on the house's upper levels. A concert room at ground level allows music events to be overheard. On the house's private side, there are several cantilevered moments of incredulity, especially at the point where the kitchen/informal dining space opens onto its terrace. This design takes concrete as a material to its architectural edge.
Detailing is immaculate and well considered throughout, with a refined and constrained material palette. Views and rooms are framed by blackbutt joinery, concrete portals, off-form concrete walls in several textures and painted gyprock ceilings. Colour has been used sparingly and brilliantly, especially in the cobalt blue ceiling of the living room and entrance hall.
Balmoral House nurtures structure, art, environment and lifestyle to the maximum.
Read the project review by Jennifer Calzini from Houses 106.
Credits
Architect

Clinton Murray Architects
Melbourne, Vic, Australia
Project Team

Clinton Murray, Polly Harbison (design architects); Nicholas Byrne, Vince Myson
Consultants

Builder Bellevarde
Interior designer Ralph Rembel
Landscape consultant Daniel Baffsky
Lighting consultant Andre Tammes
Structural consultant Ken Murtagh

Site Details
Project Details

Status Built
Category Residential
Type New houses

Source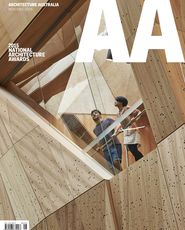 Issue
Architecture Australia, November 2015
Related topics