Jury citation
The Galleries of Remembrance at Melbourne's Shrine of Remembrance, completed in time to commemorate the centenary of the 1915 Gallipoli campaign, represent the fitting culmination of a masterplan that was established fifteen years ago. This outstanding final stage reinstates the symmetry of the four quadrants of the Shrine's original 1927 layout. Cutting courtyards into the historic grassed mound is a masterstroke that resolves the programmatic challenges of turning a landmark monument into a major museum and gallery building while keeping intact the original urban design concept.
The new entry courtyards create equal feelings of awe and pleasure in an appropriate and comfortable balance. These dramatic spaces are highly effective sensory thresholds between the city and the subterranean education and gallery spaces. The dedicated schoolchildren's entry court is especially poignant, with its giant abstracted poppy canopy and the custom that has developed serendipitously of children leaving paper poppies in the walls as they leave. What is remarkable about these latest additions is that they enhance the appreciation of the existing monument while confidently creating a new and intriguing visitor experience. The entire undercroft of the Shrine and its supporting brick piers are exposed to the public for the first time and complemented by a permanent exhibition that is extraordinarily moving in its content. The inclusion of one of the original Gallipoli boats in the exhibition meant complex scheduling in the building's construction and also the need for a hidden grass-clad door in the Shrine's mound for ongoing and future servicing and delivery. Also contained beneath the mound are new administrative offices decorated with artworks drawn from original wartime sketches and military memorabilia and a boldly confronting all-blood-red lecture theatre that features plywood Japanese origami paper cranes as the surrounding wall surfaces. All of the new works are unashamedly of their time while matching the material quality, robustness and detail finesse of their heritage host. The design response is reflective of a fiercely independent nation, even though the memorial references global events. This is important in this exemplary creation of what is now undoubtedly a nationally significant cultural destination.
Read the project review by Conrad Hamann from Architecture Australia May/June 2015.
Credits
Architect

ARM Architecture Melbourne
Melbourne, Vic, Australia
Project Team

Ian McDougall (design director); Tony Allen (project director); Jeremy Stewart (design/project architect); Stephen Davies (project architect); Andrea Wilson (interior architect); Ross Liddell, Tim Brooks, Aaron Poupard, Michael McManus, Doug Dickson
Consultants

Acoustics Marshall Day Acoustics
Building services Umow Lai
Building surveyor PLP Building Surveyors and Consultants
Contractor ProBuild
Exhibition designer Cunningham Martyn Design
Heritage consultant Lovell Chen
Landscape architect Rush\Wright Associates
Quantity surveyor Rider Levett Bucknall – Melbourne
Specialist lighting Electrolight
Structural engineer Irwinconsult

Site Details

Location Melbourne, Vic, Australia
Site type Urban

Project Details

Status Built
Completion date 2014
Category Public / cultural
Type Museums, Outdoor / gardens, Visitor centres

Source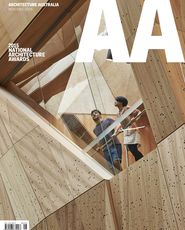 Issue
Architecture Australia, November 2015
Related topics