Jury citation
The Library at the Dock is a successful public building that seamlessly integrates environmental sustainability with social inclusiveness. The architects have cleverly turned the constraints of minimizing the building's physical loading on the heritage-listed wharf into an inspired opportunity. Austrian spruce cross laminated timber (CLT) has been used for the building's exposed structural system, creating a lightweight building that is 30 percent lighter than a conventional building. Using the repetitive expression of the timber structure and exposing the timber wall, prefabricated stair and floor slab construction have also significantly added to the building's distinctive architectural personality.
Contributing to the 6-star Green Star rating are: materials with low or no toxicity, recycled tallowwood for the exterior cladding, the CLT structural system, a rooftop solar array supplying 30 percent of power, mixed-mode ventilation, the introduction of a sheltered urban verandah, a narrow floor plan depth that maximizes natural light, rainwater harvesting for toilet flushing, and furniture selection that in material and finish adheres to the rating tool.
Designed so that the adjacent park and wharf promenade become extensions of the building, the relatively small building footprint has a sense of spatial expansiveness with maximum visual connectivity. Library at the Dock welcomes the diverse community to make it their own, whether as living room, study space, recording studio, activity centre, media centre, meeting place, function centre, reading room or just a place to pause.
Read the project review by Philip Goad in Architecture Australia Jan/Feb 2015.
Credits
Architect

Clare Design
Qld, Australia
Project Team

Clare Design + Hayball (Architect of Record)/project team: Lindsay Clare, Kerry Clare (design architects); Renee Farah (interior designer); David Tweedie, Stuart Davey, Susy Gee (architects of record)
Architect of Record

Hayball
Southbank, Melbourne, Vic, 3006, Australia
Consultants

Acoustic engineer Renzo Tonin & Associates
Builder Abi Group
ESD Lend Lease Design
Fire engineer Scientific Fire Services
Interior design Clare Design, City of Melbourne
Services engineer Lend Lease Design
Structural engineer Robert Bird Group, TimberFirst

Site Details

Location Melbourne, Vic, Australia

Project Details

Status Built
Completion date 2014
Category Public / cultural
Type Libraries

Source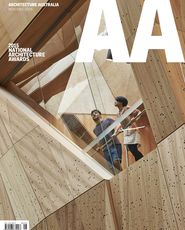 Issue
Architecture Australia, November 2015
Related topics