Jury citation
Located on the Northern Sydney Institute's St Leonards Campus, Cameraygal is a noteworthy example of how adaptive re-use can benefit a college community and support contemporary learning on a modest budget. In its previous life it was a brutalist building, completed in 1967, and a sealed container for science education. Considered interventions enhance the building's urban presence and relationship with the College Green while a new architectural narrative has been written to connect Cameraygal to its past. It's now been converted into a living, breathing building, integrating sustainable operation modes and using them as educational tools.
A building management system integrates and informs occupants of all data collected from the building's systems. Other interventions include solar panels on the roof and north-western facade and these service 75 percent of the operational power needs while also providing sunshading. Zoning of services has reduced operation costs. External glass has been replaced with high performance laminated glazing and there is extensive use of recycled and low-emission materials.
Cameraygal is a clever adaptation of what might have been considered an obsolete building. By keeping true to the robustness of the original building's structural skeleton and efficient floor plate and then allowing more natural light to penetrate, by increasing cross-flow ventilation and by improving student amenity generally, an uplifting environment for contemporary learning has been created.
Source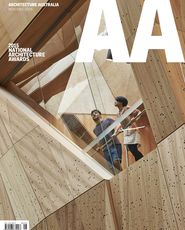 Issue
Architecture Australia, November 2015
Related topics