The shape of buildings to come: 2015, the year ahead
As 2014 draws to a close, we take a look ahead the projects sure to make an impact in 2015.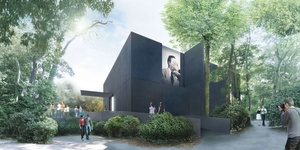 Australian Pavilion
The new Australian Pavilion in Venice would have to be one of the most highly anticipated projects since the competition was announced in 2012. From sixty-seven entries, six shortlisted, Denton Corker Marshall's 'black box' was awarded the winner. Construction on the pavilion began in mid 2014, and it is expected to be completed by May 2015, in time for the 56th International Art Biennale.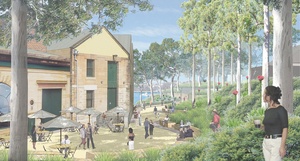 Barangaroo Point
Not to be out done in the notoriety stakes, the controversial Barangaroo development in Sydney will open its first completed project in mid 2015. Named Barangaroo Point, the six-hectare harbour side park designed by American landscape architect Peter Walker will replicate the headland's pre-1836 naturalistic shoreline with rugged sandstone and native vegetation including Port Jackson figs.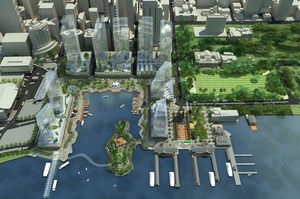 Elizabeth Quay
On the other side of the country, Elizabeth Quay in Perth will have its public realm unveiled to the public in spring 2015. The projected by ARM Architecture and Taylor Cullity Lethlean is the centrepiece of a major urban renewal project designed to connect the city to the Swan River. The project features a promenade which wraps itself around the inlet as well as an island in the centre which will be used for public events.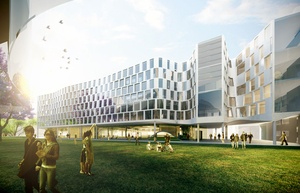 Thomas Street Building
2014 was a big year for UTS in Sydney, opening two new faculty buildings: Faculty of Engineering and IT by Denton Corker Marshall and the high profile Dr Chau Chak Wing business school building by Gehry Partners. In 2015, the new building streak continues with the Durbach Block Jaggers and BVN-designed Thomas Street building which will be home to the Faculty of Science and Graduate School of Health.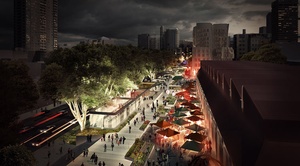 The Goods Line
Taking a leaf from the High Line in New York, The Goods Line project in Sydney is a 500-metre long public park converted from a disused railway. Designed by Aspect Studios in collaboration with CHROFI and the Sydney Harbour Foreshore Authority, the Goods Line will run through Ultimo on the edge the CBD from Railway Square to Darling Harbour. The first section of the Goods Line, the southern section, is expected to open in early 2015.