Jury comment
Alex Hotel provides a wonderfully nuanced set of spaces that respond within a collab-orative vision and shared aesthetic. The designers have created an immersive hotel experience that layers relaxed luxury and balances the honesty and raw nature of the architectural framework. With every detail thoroughly considered, the spaces at Alex Hotel are highly curated, yet wonderfully unpretentious, textured and real. The result is a mix of lively public spaces with tranquil nooks of sanctuary. The design celebrates the richness of the local building fabric and gives the community a playground for travellers and design enthusiasts alike. Crafted, bespoke and ultimately comforting, this project embodies relaxation and the notion of hotel as home.
Design statement
The overarching concept of Alex Hotel posits a world unto itself, where interaction and rest are seamlessly wedded through a sense of home. Defining a layered and rich travel destination experience, Alex Hotel frames and contextualizes this emerging Perth location. Curation and procurement of furniture, lighting, custom-designed bespoke joinery, furniture, objects and art embody the primary concept of "hotel as home." Alex Hotel explores four ideas: the personal, the escape, the craft and the legacy, with each element responding to the collaborating architects' work.
The Award for Hospitality Design is supported by Laminex. The Australian Interior Design Awards are presented by the Design Institute of Australia and Artichoke magazine. For more images of this project, see the Australian Interior Design Awards gallery.
Source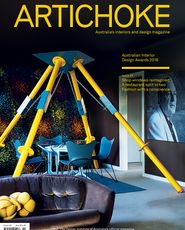 Award
Published online: 10 Jun 2016
Images: Anson Smart
Issue
Artichoke, June 2016
Related topics