Jury comment
The Queensland Museum Refurbishment project encompasses a dramatic transformation of the spatial, functional and wayfinding experience of the museum and its precinct. This is achieved with a series of modest, flexible architectural and design interventions informed by a previous masterplan by the same design team and unified by the crafting of a singular material, blackbutt. The well-documented impact of this project is impressive and includes increased visitor numbers, increased functions and retail revenue, an ability to host major international exhibitions, a greater connectivity and activation of the broader cultural precinct, and an equality of access that goes beyond the mere physical and embodies social and cultural circumstances.
As a consequence, the museum has a greater national and international profile, enabling it to retain and attract bright staff and improve levels of benefaction.
This project makes a compelling case for continuity of the design team from masterplan to completion, for critical research-based design decisions, for close collaboration with a visionary client, and for the significant benefits and value for money that can be derived from informed investment in cultural institutions.
Design statement
This refurbishment encompassed a dramatic transformation of the spatial, functional and wayfinding experience of the Queensland Museum, while simultaneously respecting the integrity of the original brutalist archi- tecture. Cox Rayner Architects achieved all objectives using one material – blackbutt – crafted into a continuous installation of multiple elements, wended from one end to the other.
The pragmatic objectives were to remedy the museum's non-compliance with equitable access codes, and its inflexibility for exhibitions due to its narrow floor plates cut by a longitudinal atrium. But, in addressing these issues, the design team was asked to invigorate the dour brutalist spaces of the museum, long regarded by the museum as discouraging visitation, especially by families and children (and validated by surveys). Cox Rayner Architects used blackbutt as a wayfinding device. The material forms a serpentine spine, like a continuous installation of intermediary exhibition floors, stairs, vertical circulation markers, display cases, museum shop joinery, services screens and rest points. The way the elements are connected and crafted has radically increased the flexibility of exhibition types and configurations. It has enabled visitors to explore the museum in varied journeys (where previously there was just one route), yet at the same time maintain awareness of place in the building.
The Award for Interior Design Impact is supported by Business Interiors by Staples. The Australian Interior Design Awards are presented by the Design Institute of Australia and Artichoke magazine. For more images of this project, see the Australian Interior Design Awards gallery.
Source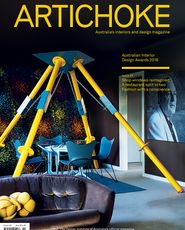 Issue
Artichoke, June 2016
Related topics