Jury comment
Our Lady of the Assumption is an exemplary demonstration of adaptive reuse of a building that had outlived its original function as a Telstra training centre. The designers have shown great foresight and leadership in creating a new, active use for the building. The flexibility afforded by the design is authentic. Spaces can be separated and reconfigured, positively impacting on the social experience of young children at a formative stage of their development, and encouraging interaction and cooperation. The designers controlled the 3D dynamics of the space through high-quality customization of interior elements.
Design statement
This is a twenty-first-century teaching space where the traditional classroom is replaced by light-filled spaces for teachers and children to move around as they engage in learning. By responding to the environmental imperative to creatively reuse old buildings, this new primary school is a model and leader in pedagogical design.
A challenge was turning the unattractive concrete building into an inspirational educational space. The overarching design provides flexible, open learning spaces, using materials that create a warm and natural atmosphere. Equally important was the need to produce a variety of differently scaled spaces to suit small children as well as frequent use of technology. While the existing concrete structure is partially exposed, timber floors, moveable screens, joinery with shelves, built-in seats and withdrawal spaces enable different teaching configuration.
The Award for Public Design is supported by Laminex. The Australian Interior Design Awards are presented by the Design Institute of Australia and Artichoke magazine. For more images of this project, see the Australian Interior Design Awards gallery.
Source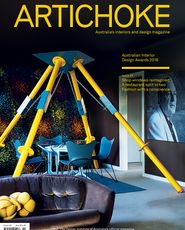 Issue
Artichoke, June 2016
Related topics