Jury comment
The designers behind Fitzroy Loft eschew the notion of a single iconic "idea," preferring instead a process of editing and delighting in the found layers of the existing building fabric. Programmatically re-sculpting the interior volumes to reveal the cathedral-like heights of the industrial sawtooth roof, the new interior architecture ingenuously crafts interactions between public and private space over several levels and provides simultaneous separation and connection. Natural light and a renewed feeling of space pervade the interior, while thoughtful execution of newly inscribed materials sensitively distinguish new from old and adds to the storytelling of the building's history. Above all, the jury thought that the adaptation of this historic warehouse provided an incredibly warm, textured and ultimately liveable interior.
Design statement
Fitzroy Loft is a warehouse conversion inside the 125-year-old MacRobertson chocolate factory in Fitzroy, Victoria. The project is about bringing light and air deep into the home, while maintaining the integrity and context of its historical significance. Three internal voids are devised to highlight the original factory heights. While the brief called for a sizeable family home, keeping the integrity of the original factory's bones was vital. Walls and floors that were built in more recent years were torn down to expose charred beams and remnant paint.
The interior is a series of spaces linked by three internal voids. The first void is the courtyard, which is directly connected to the main living room and the kitchen. The second void is located as a zoning device, separating the living spaces from the private zones on the lower floor. And the third void is placed at the very back in the library, displaying the original timber column and beam, and allowing the soft southern ambient light to touch the library and the mezzanine study above.
The Award for Residential Design is supported by Smeg. The Australian Interior Design Awards are presented by the Design Institute of Australia and Artichoke magazine. For more images of this project, see the Australian Interior Design Awards gallery.
Source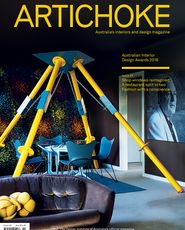 Issue
Artichoke, June 2016
Related topics