Jury comment
This conceptually sublime project trans-figures the conventional arrangement for this typology by delving deeper into the client's habitat and passion for Australian art. In a singular vision that has been carried throughout, the designer uses the client's extensive art collection as a catalyst for design outcomes. The storage and display of art acts as the overall driver of the interior, and the outcome is a flexible and invigorating one that mediates the breathtaking views and contributes to a dynamic interactivity within and between spaces. The materials and colours used give a nostalgic nod to the building's seventies architecture, but are also executed in some of the apartment's contemporary elements, such as in the bathrooms and joinery. This project is a shining example of how fruitful a truly collaborative relationship between artist, client and designer can be.
Design statement
This apartment fitout seeks to capture the faceting geometry of the original 1970s apartment building to give it a renewed life. The client's extensive artwork collection is innovatively displayed with flexible joinery, allowing the client a curatorial role with its display. The apartment is designed for "empty nesters" downsizing from a large, formal family home to a small apartment. The client requested a degree of formality but also sought something novel and surprising to the interior. As a significant benefactor to the Australian art community, the client wished for the apartment to accommodate thirty to forty paintings and sculptures from a previous dwelling. Significant challenges included how to house the large quantity of historically important Australian artwork within limited surface area, and how to reconcile the display of artwork with the breathtaking views and functional planning of the apartment.
The Award for Residential Design is supported by Smeg. The Australian Interior Design Awards are presented by the Design Institute of Australia and Artichoke magazine. For more images of this project, see the Australian Interior Design Awards gallery.
Source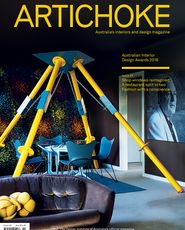 Issue
Artichoke, June 2016
Related topics