Jury comment
Theodore Treehouse shone out like a Mannerist beacon in the Residential Decoration category. Featuring pop references and pushing the boundaries of decoration for a residential space, this project is unexpectedly courageous and fresh. The spaces within the rental are innovative and theatrical, while also inviting, incredibly crafted and utterly bespoke. With each room curated in equal measure as part installation exhibit, part stage, the interior contains a touch of the "whimsical voyeur," leaving us wanting to peep a little further. Theodore Treehouse uses a non-traditional delivery strategy. The impeccable execution and playful experi-mentation of this project contributes in an extremely positive and joyous way to contemporary decoration practice.
Design statement
Theodore Treehouse is an inner-city modernist apartment transformed into an exaggerated and beguiling residence fit for its eccentric Bunnings-venerating and pleasure-seeking bachelor.
Architect Ernest Fooks would be distressed. His 1962 modernist apartment block, in affluent Toorak, Melbourne has been secretively transmuted into a bedazzled paradox of layered and aggrandized interventions. Orchestrated by its tenant bachelor, this one-hundred-square-metre treetop retreat fashions a "do-it-yourself" enterprise of bespoke toolbox installations and incongruous material reconfigurations.
This project throws caution and perceived spatial fashions to the wind. By meshing the eclectic desires, lifestyle and dreamworlds of the client-practitioner into a spatial transformation of this rental, the interior claims a new kind of spatial practice that is not afraid to add more to residential decoration and the interpretation of luxury living.
The Award for Residential Decoration is supported by Smeg. The Australian Interior Design Awards are presented by the Design Institute of Australia and Artichoke magazine. For more images of this project, see the Australian Interior Design Awards gallery.
Source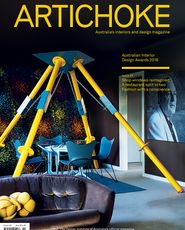 Issue
Artichoke, June 2016
Related topics