You have to admire a conference that presents projects like the Loving Pork Laboratory in Japan alongside a design analysis of the AK-47 Kalashnikov rifle, all under the thematic mantle of "home." At the recent Asia Pacific Space Designers Alliance (APSDA) conference in Adelaide, speakers and participants were drawn from disciplines across macro and micro scales (landscape architecture to graphic design), with an ambitious representation of everything in-between. So the conjunction of these two examples was just one of many potentially productive tensions emerging from the theme: Atelier Bow Wow's Loving Pork Laboratory is an earnest commercial and community centre that gathers local meat processing, social reform and traditional building crafts into one wackily titled facility at Kurimoto, Japan, while Malaysian architect Kevin Low's discussion of the AK-47 elaborated his polemic about the perils of form over content (which is by now familiar to Australian audiences).
"Home" is a chequered concept for many of us. In Italian there is no word for it – only "casa" for "house," underlining its inevitable domestic associations. These can be anathema for designers like keynote Anton James, a Sydney landscape architect who generally works close to home but is keen to shrug off security in favour of impulses much stronger and experientially disconcerting. James's brilliant painterly explorations of "how to be at home in the landscape" produce surprising strangeness out of somewhat familiar phenomena: puddles, puddings and pressed-tin panel patterns applied at the topographical scale.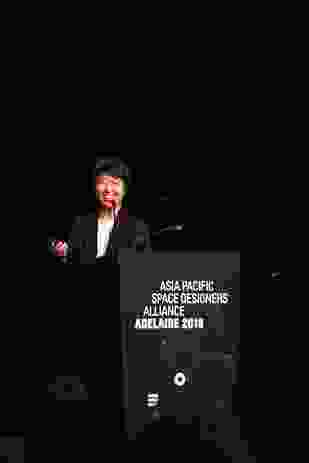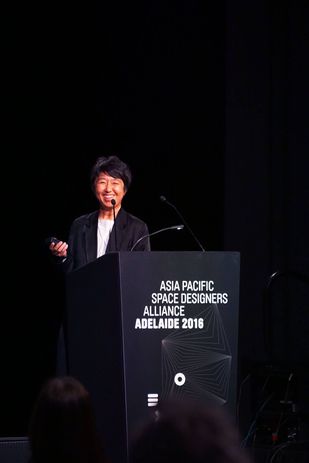 However, for many speakers the focus of their presentations was of an intimate and interior scale. Most compelling was Humberto Campana of the Brazilian practice Estudio Campana – a globally successful design team/partnership that he directs with brother Fernando. What began as a disarmingly modest introspection on the whimsical origins of this partnership, gathered weight through a richly illustrated survey of its output for prestigious companies like Edra, Alessi, Louis Vuitton and Lacoste. His presentation culminated in a return to the local and impoverished context of the favelas, where Estudio Campana not only takes inspiration from regional crafts, but also employs local communities to consult and assist in manufacturing their pieces. The homing ground for the Campanas is excess; the precious materials of the luxury market used simultaneously with the ingenious patterns and plenitude of ordinary life. From stacked trolleys of salvaged cardboard, roadside stalls of cheap plush toys, or the ubiquitous everyday helper that is bubble wrap, mundane things are transformed into inventive, exuberant solutions for daily use.
In contrast to this was the reductionist but immensely satisfying aesthetic restraint of Atelier Bow Wow, presented by director Momoya Kaijima, who showed a suite of projects in responses to the 2011 Japan earthquake and tsunami. These were unspectacular but profound works that restored and remediated homes for the displaced and disadvantaged, including those disappearing generations of artisans. These compassionate interventions expanded the concept of "home" to embrace workplace, village and landscape. Spatial, material and graphic investigations of the utmost character require no branding – they have Japanese DNA through and through.
In South Australia, a state trying gamefully to abate a continuing diaspora of good designers to other climes, there was a predictable inclusion of home-grown product, and prodigals returned (if only for a wet weekend). The contribution of these speakers was, for the most part, gratifying, and in the case of local furniture designer Khai Liew, a cause for celebration far beyond the parochial. Like Atelier Bow Wow, Liew presented exquisitely refined work with humbling logic and integral connection to place.
Despite the conference's broad base and thoughtful curation of content and extracurricular events, APSDA 2016 was undersubscribed. Why the sparse representation from the fourteen countries who make up the membership? To cover the professional provinces of APSDA, let alone the conceptual territory of the theme, was a courageous goal, handled with disciplinary generosity and hospitality. I just wish more people came to visit.
Save
Related topics