Best Bar Design
Pink Moon Saloon by Sans-Arc Studio
Adelaide, South Australia
Jury comment —
Pink Moon Saloon is a diminutive venue that occupies a former rubbish bin alley sandwiched between two office buildings in a laneway in central Adelaide. The project is simultaneously audaciously ambitious and modest. It successfully manages to make something from nothing – a forgotten space infused with a feeling of joy that the jury found particularly contagious.
While the design undoubtedly pursues a sense of genuine fun, it also taps into that deep Australian memory of long-forgotten cubby houses and sheds. It is here, within this archetypal connotation, where joyful celebration takes place. Pink Moon Saloon has been executed with a razor-sharp eye for detail and the overall design, while being immediately familiar in some uncanny way, manages to both shock and surprise us – in a good way.
Capping off all of this, the project is entirely sustainable – the space it occupies can be returned to its former function at any point in the future, and the Saloon can be relocated to meet a different need. The end result is a bar that fully embraces its actual time and place, which is 2016, and a newly confident Adelaide, respectively.
Design statement —
The brief called for a small bar and kitchen in a disused alley in Adelaide measuring 3.66 metres by 28 metres, with the venue to incorporate a narrative of the outdoors. The concept evolved into an exploration of the typology of the wilderness hut, creating a uniquely immersive experience. Pink Moon Saloon was to be other-worldly, visually rich and fun. Light needed to be able to penetrate the space and a compact floor plan had to efficiently deal with the limited width of the site. The alleyway was broken into layers: the light-filled and airy drinker's hut and the darker, dimly lit dining hut. The two huts are separated by a courtyard, which allows light into the huts during the day. The sixty-degree roof pitch relieves the tightness associated with a narrow space and accentuates the venue's height and volume.
Pink Moon Saloon
21 Leigh Street
Adelaide SA 5000

Sans-Arc Studio
Level 3, 25 Leigh Street
Adelaide SA 5000
www.sansarcstudio.com.au
See the whole gallery of images at the Eat Drink Design Awards website.
The 2016 Eat Drink Design Awards are organized by Architecture Media and AGM Publishing and supported by principal partner Taubmans; major partners Planned Cover and Taylors Wines; and supporting partners Map, Schiavello, South South West, Stellar Works, Tait and Viridian.
Thanks also to our event partners Acqua Panna, Sample and Starward.
The Eat Drink Design Awards are endorsed by the Australian Institute of Architects and the Design Institute of Australia.
Source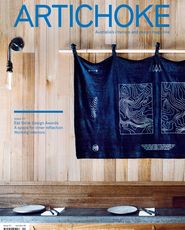 Issue
Artichoke, December 2016
Related topics