Best Cafe Design
Higher Ground by Design Office
Melbourne, Victoria
Jury comment —
Higher Ground is an exceptionally executed exercise in solving logistical challenges while safeguarding the expression of, and respect for, an existing spatial volume – a historic former power station in the western end of Melbourne's city grid. The design team has shown considerable restraint in defining the space, creating a host of experiences at different levels (both literally and figuratively), resulting in what the jury has referred to as an "urban drawing room."
Rather than relying on visual tropes that reflect well-known hospitality types, the space is ambiguous in the way that a high-end hotel foyer can be ambiguous. The client refers to this as the ambition to create a "hotel without rooms," and the desire to make something the likes of which Melbourne has not yet seen. The finished venue is remarkably comfortable and achieves this left-of-field ambition.
Finally, the variety of spaces and "perches" created at different levels in the singular volume allows many opportunities for diners to get comfortable. At the same time, each occupant is rewarded with a different voyeuristic perspective on the gathered crowd, and the visiting experience is different every time.
Design statement —
DesignOffice was commissioned by Nathan Toleman and the team behind Top Paddock and The Kettle Black to create a new all-day destination for food and drink near Melbourne's Southern Cross Station. The existing site had no base building services and called for a complex and considered integrated fitout to provide a kitchen and toilets. The designers had to also meet the mechanical and hydraulic needs in a way that was sympathetic to the environment and allowed the spatial qualities of the volume to be enjoyed from every seat. The rich and tactile palette combines terrazzo, cork, painted steel, stone, black fibreboard and solid timbers to define and anchor each setting. Layers of planting, rugs, furniture and lighting inhabit the levels to provide a range of seating options for customers, from morning through to the evening.
Higher Ground
650 Little Bourke Street
Melbourne Vic 3000

DesignOffice
5 Hotham Street
Collingwood Vic 3066
designoffice.com.au
See the whole gallery of images at the Eat Drink Design Awards website.
The 2016 Eat Drink Design Awards are organized by Architecture Media and AGM Publishing and supported by principal partner Taubmans; major partners Planned Cover and Taylors Wines; and supporting partners Map, Schiavello, South South West, Stellar Works, Tait and Viridian.
Thanks also to our event partners Acqua Panna, Sample and Starward.
The Eat Drink Design Awards are endorsed by the Australian Institute of Architects and the Design Institute of Australia.
Source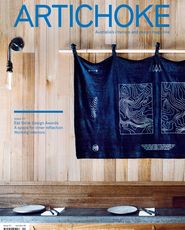 Issue
Artichoke, December 2016
Related topics