Best Restaurant Design
Dinner by Heston Blumenthal by Bates Smart
Melbourne, Victoria
Jury comment —
We can summarize the essence of Dinner by Heston Blumenthal in one word: sumptuous.
This is an interior that perfectly reflects the ambition of the venue and the chef himself – to transport the diner through a curated experience that is simultaneously calm yet exciting. Blumenthal wants everything to be an adventure, but one that engages the diner with comfort: the design of the interior supports this absolutely.
Eschewing the brittle formality that can accompany the high-end gastronomic experience, everything about this interior is "squishy" – to use an oddly non-designer-like word – you sink into the deep comfort of this interior, both literally and conceptually.
The experience begins with the entry, a dark and lusciously finished hall that physically transports you away from the "everyday" and deeper into the interior's embrace. The dining room, and even the kitchen, are all tailored to emphasize the fact that you are some- where special, and that special things are about to happen. The result is a heavily curated experience and interior that is equal parts theatrical and delightful.
Design statement —
This 120-person-capacity restaurant overlooks Melbourne in the space vacated by The Fat Duck and marks British chef Heston Blumenthal's first permanent restaurant outside of the UK. Guests enter through a theatrical ten-metre ramp that has its own aroma of damp moss, wood smoke and leather. The ramp has the illusion of becoming increasingly smaller as guests walk towards a kaleidoscope. A concealed sliding panel opens to reveal the restaurant's host desk and show kitchen. The cocktail bar overlooks the dining room with views out to the city and into the show kitchen, while the private dining room offers dining for up to ten guests and has clear views of both the kitchen and the city. The textured ceiling motif is inspired by the Tudor rose. Wall scounces above the sommelier station are custom-made porcelain Victorian jelly moulds.
Read the project review by Peter Davies from Artichoke 54.
Dinner by Heston Blumenthal
Crown Towers
Level 3, 8 Whiteman Street
Southbank Vic 3006
Bates Smart
1 Nicholson Street
Melbourne Vic 3000
batessmart.com
See the whole gallery of images at the Eat Drink Design Awards website.
The 2016 Eat Drink Design Awards are organized by Architecture Media and AGM Publishing and supported by principal partner Taubmans; major partners Planned Cover and Taylors Wines; and supporting partners Map, Schiavello, South South West, Stellar Works, Tait and Viridian.
Thanks also to our event partners Acqua Panna, Sample and Starward.
The Eat Drink Design Awards are endorsed by the Australian Institute of Architects and the Design Institute of Australia.
Source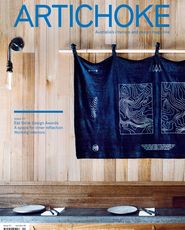 Award
Published online: 8 Nov 2016
Images: Mark Roper
Issue
Artichoke, December 2016
Related topics