Best Retail Design
Lune Croissanterie by Studio Esteta
Fitzroy, Victoria
Jury comment —
Lune Croissanterie is many things all at once: an experience, an event, a showroom for goods, even a shrine complete with altar, all to the greater glory of one thing: the croissant. Taking the concept of laser-focused purpose to a new, higher level, Lune Croissanterie perfectly showcases the prodigious talents required to create this one type of pastry, along with various variations on the core retail theme.
The act of creating and selling what The New York Times has referred to as arguably the "world's best croissant" has been given a focused and exceptional interior, where the visitor is stepped through the process of ordering and purchasing as if through a religious-like observance. As with a religious ritual , the interior is designed to provide the props, sets, spatial sequences and halting points of human movement that help to interpret the experience.
Referred to by one juror as the "Apple Store of croissants," the interior perfectly manifests the concept of experiential retail and takes it to an almost obsessive, higher level. The result is "self-confident but fabulous," and yet it would all be for nought if the product itself were not up to scratch. Fortunately, there are no problems on that front.
Design statement —
The client's brief sought a design that enabled fluid and seamless production while creating a celebration of the croissants and pastries on sale. To achieve this, the warehouse space was divided into three distinct areas. The first area, near the entry to the space, is dedicated to bakery service and consists of two monolithic concrete counters, with orders dedicated to the left and coffee service and waiting area to the right. The separation allows for customers to engage with the central illuminated and climate controlled glass cube known as the "Lune Lab." Dedicated to the production of the pastries, the cube is the heart of the operation – a shrine to the pastries. Towards the rear of the space is the third area, for baking and kitchen preparation. The material palette and volumetric insertions of the warehouse were kept minimal in order to keep within the budget and to avoid distracting from the theatre of the production process.
Lune Croissanterie
119 Rose Street
Fitzroy Vic 3065

Studio Esteta
Level 1, 29A Gwynne Street
Cremorne Vic 3121
studioesteta.com.au
See the whole gallery of images at the Eat Drink Design Awards website.
The 2016 Eat Drink Design Awards are organized by Architecture Media and AGM Publishing and supported by principal partner Taubmans; major partners Planned Cover and Taylors Wines; and supporting partners Map, Schiavello, South South West, Stellar Works, Tait and Viridian.
Thanks also to our event partners Acqua Panna, Sample and Starward.
The Eat Drink Design Awards are endorsed by the Australian Institute of Architects and the Design Institute of Australia.
Source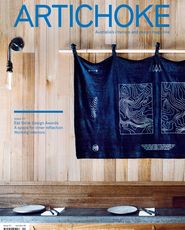 Issue
Artichoke, December 2016
Related topics