Hall of Fame
Il Bacaro by Chris Connell Design
Melbourne, Victoria
Jury reflection —
In an industry that seems to mow through its own ranks on a regular basis, subjecting itself to constant churn and renewal, Il Bacaro is a hospitality survivor and an institution. It is the quintessential example of that particular but rare Melbourne species: the classic, timeless, character-filled Italian dining interior, and it continues to please critics and the public alike. In fact, on Il Bacaro's twentieth anniversary last year, a reviewer for Australian Gourmet Traveller half-jokingly noted that the restaurant might just qualify for heritage listing.
Opened in 1995, Il Bacaro was an important early work for designer Chris Connell and followed an earlier project with Il Bacaro's founder Maurizio Terzini, the equally iconic Caffe e Cucina in South Yarra. While Caffe e Cucina was a casual, morning kind of place, Il Bacaro was a more sophisticated, and perhaps slightly more formal proposition: dark and atmospheric and geared to lunch and night-time fine dining.
When asked what makes this particular restaurant such an enduring classic, Connell is circumspect, or perhaps merely realistic, about the role of the interior, and indeed design in general. It is more than modesty that compels him to name the product on offer, and the service provided – the details of the way they serve and present food and the high quality of the food itself – as central to the experience of Il Bacaro, and indeed any exceptional restaurant. It is primarily the consistency of these things, he suggests, rather than design, that has made Il Bacaro such an important landmark in the broad landscape of Melbourne dining. In Connell's own words, it was and remains his role to merely "provide a vehicle" for these things to occur.
Terzini brought to the project a crystal clear vision for Il Bacaro in terms of service, product and atmosphere. Connell recalls Terzini previously turning up at Caffe e Cucina, and inevitably yet imperceptibly adjusting the level of illumination, or the angle of a knife or fork on a table. From the beginning, he was all about getting the details right, an attitude he shared with Connell. This approach to quality and consistency underpinned the brief for Il Bacaro, and subsequent chefs and owners have maintained this high standard.
Within the constraints of such a clear starting brief, Connell and his team had a myriad of technical and logistical problems to solve. The space itself is quite small, with very little room for storage, kitchen and back-of-house functions. Matching the seating capacity of the venue to the serving capacity of the kitchen in such a tight space posed a challenge, as did the provision of storage. Connell turned this latter constraint into a virtue, particularly with the storage and display of wine in purpose-designed racks that give the venue such a distinctive visual signature. Other places, such as the otherwise lost space beneath the banquette, are also used for wine and other storage; in Connell's own words, "every millimetre counted."
Finished in a palette that includes dark timber panelling and surplus Vitrolite glass panels from the 1930s, the dining space, while modest in size, offers a range of different dining experiences. Connell calls this "zones within zones." They range from the stool seating at the bar, to zones of linen cloth-covered tables with classic timber cafe chairs, and more tables against the banquette. The finished venue is quite inward-looking, with views to and from the exterior obscured by dark timber venetian blinds, which serve to intensify the atmosphere and the sense of drama and theatre within.
Ultimately Connell is a designer who sees restaurant interior design as just "part of the package, not the drawcard." This attitude, and indeed the irrefutable evidence of the ongoing relevance of Il Bacaro, can be favourably compared to the rock star chef and million-dollar-fitouts seen emerging over the last twenty years. The latest trends, and venues, come and go ("How the hell would I know what the latest colour is?" quips Connell in our interview) but both Il Bacaro, and the philosophy by which it was created, remain.
Long may it be so.
Il Bacaro
168–170 Little Collins Street
Melbourne Vic 3000
ilbacaro.com.au
Chris Connell Design
78 St Kilda Road
St Kilda Vic 3182
+61 3 8598 2222
chrisconnell.com.au
See the whole gallery of images at the Eat Drink Design Awards website.
The 2016 Eat Drink Design Awards are organized by Architecture Media and AGM Publishing and supported by principal partner Taubmans; major partners Planned Cover and Taylors Wines; and supporting partners Map, Schiavello, South South West, Stellar Works, Tait and Viridian.
Thanks also to our event partners Acqua Panna, Sample and Starward.
The Eat Drink Design Awards are endorsed by the Australian Institute of Architects and the Design Institute of Australia.
Source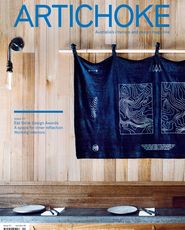 Issue
Artichoke, December 2016
Related topics