Jury comment
Nothing about this home is average – from the significant collection of Australian art it houses to the spectacular view it embraces – and Chenchow Little's refined and surprising design is the perfect match. The interior is reminiscent of the 1950s dwellings of postwar immigrants, where an appreciation for art was reflected in every part of the home design. This project represents a refined interpretation.
The bright Esther Stewart artwork in the lift sits in contrast with the floating American oak and painted white steel joinery that define each room and elongate the sense of spatial depth. The timber is repeated on the floors and ceiling, intensifying the contrast to the views of the harbour beyond.
There is much joy in what lies behind the surface. Open the moveable panels and you might find a Jeffrey Smart or John Coburn painting. Open the door to a bathroom and you step into another world – each is unique, providing contrast to the monochrome palette of the main rooms. The striking interior is immediately appealing but reveals its beauty in the detail.
That an apartment has been named the Australian House of the Year reflects a shift in the way many Australians live today. This project also demonstrates that an apartment can be designed with the same warmth and sophistication as a detached house.
See full image galleries of all the winning and shortlisted projects here.
Australian House of the Year is supported by Cult.
Credits
Architect

Chenchow Little
Sydney, NSW, Australia
Project Team

Tony Chenchow, Stephanie Little, Kate McCowage, Joshua Mulford, Laura Meyer
Consultants

Art installation Esther Stewart
Builder Pacific Plus Constructions
Engineer Partridge
Lighting Haron Robson

Site Details

Location Sydney, NSW, Australia

Project Details

Status Built
Completion date 2015
Category Residential
Type Apartments

Source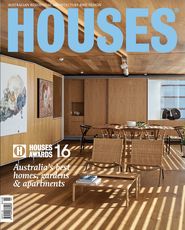 Related topics