Jury citation
The new South Australia Drill Core Reference Library consolidates geological samples recovered from over 130 years of mineral and energy resources exploration in South Australia and enables secured storage, display and analysis of its collection.
Two levels of administration, exhibition and conference rooms look onto a generous, double-height public viewing room that evokes the grand reading rooms of traditional civic libraries.
Steel is deployed throughout the building in a range of components, including exposed roof structure and decorative balustrades that line the viewing room. The jury, however, was delighted by the exquisite and extensive use of steel on the exterior of the building. Vast planes of unfinished steel plate have been left to oxidize, creating a reactive and nuanced surface.
Where the outer facade peels back in a dramatic cantilever announcing the public entry to the facility, the steel plate is embellished with perforations that reveal its lightness and thinness. Here it performs the task of sunshade and veil, moderating sunlight and revealing the interior at night.
The abstraction of the facade continues as the steel plate gives way to carefully articulated panels of precast concrete and copper inlay. At their interface, the weathering steel will slowly change the appearance of the exterior with beautiful staining and discolouring of the concrete. This is a pragmatic and poetic work of architecture.
Credits
Architect

Thomson Rossi
Adelaide, SA, Australia
Project Team

Simon Thomson/ Andrew Truong, Allen Yeo (design architect), Simon Thomson (principal architect), Andrew Truong (project architect), Allen Yeo (other/BIM manager), Elisabeth Mitchell (Graduate of Architecture), Anne Maynard (other/interior design)
Consultants

Acoustic consultant Aurecon
Builder Hansen Yuncken
Building surveyor Katnich Dodd
Civil consultant Aurecon
Engineer Aurecon
Landscape consultant Thomson Rossi
Quantity surveyor Aquenta Consulting
Services consultant Aurecon

Site Details

Site type Urban

Project Details

Status Built
Completion date 2015
Category Public / commercial
Type Libraries

Client

Client name Department of State Development

Source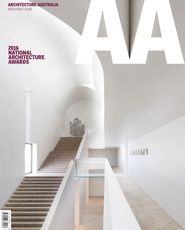 Issue
Architecture Australia, November 2016
Related topics