Jury citation
Surely it is every architect's dream to design their nation's pavilion in Venice. In 2011, the Australia Council for the Arts gave a select few the chance to compete to do so. Denton Corker Marshall emerged as the victor, and Australia managed to deliver what many nations have struggled in recent times to achieve: the construction of a new building in the Giardini della Biennale. To try to represent an entire nation's history of architecture in one pavilion would have been remiss. The architects have instead opted to create an adaptable and utilitarian black box, almost devoid of style, which can be transformed by those invited annually to do so.
Situated off the beaten track and behind such powerhouse nations as France and the United States, the Australian pavilion humbly sits in the background, respectful of the historic garden setting. To date we've seen two shows in the new pavilion. Fiona Hall painted the white interior black, while Aileen Sage Architects and Michelle Tabet flooded the space with a 300-millimetre-deep pool, confirming the architects' successful intent for the interior to be forever reinterpreted. A series of large operable panels and flaps unfold from the solid black granite mass, further articulating the building's ability to be reconfigured. A gentle sloping ramp at the entrance reminds us of the old Cox pavilion that formerly sat on the site. At the top of the ramp the pavilion emerges confidently from the trees, showing a touch of Australian muscle and cantilevering out over the Rio dei Giardini canal. The architects have further illustrated their resourcefulness by nominating the area underneath the cantilever, shaded from the hot summer sun, as a spontaneous prosecco bar.
Read the project review by Robert Grace from Architecture Australia Jul/Aug 2015.
Credits
Architect

Denton Corker Marshall
Melbourne, Vic, Australia
Consultants

Contractor SICOP Costruzioni e Restuari, Sirco, Fiel
Engineer Arup
Engineering consultant for operable panels Advanced Design Innovations (Australia)
Local architectural associate FARE Studio (Italy)
Project manager InTeA (Italy)
Services and Structural engineer STEAM (Italy), Arup (Australia)

Site Details

Site type Urban

Project Details

Status Built
Completion date 2015

Source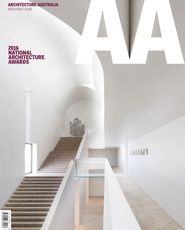 Issue
Architecture Australia, November 2016
Related topics