Jury citation
The Condensery – Somerset Regional Art Gallery provides a fine example of how even a small public asset has the capacity to make a significant contribution to the cultural and civic life of a regional community. While this remnant 1920s packing shed of the former Nestlé condensed milk factory in Toogoolawah had no legislative heritage protection, its adaptive re-use was approached as an act of conservation. Among other commendable outcomes, this design direction has led to the recovery of the building's iconic form, amplified by the beautiful use of a tapestry of reds, evoking rusting corrugated iron.
Internally, the floor plan is arranged as a series of traditional yet flexible gallery spaces, stockrooms and ancillary rooms. New walls are constructed of exposed timber stud and serve as a celebration of the local building tradition. The configuration is robust and anticipates concurrent and complementary uses. A small extension to the end of the structure accommodates complying bathrooms and a small kitchen that serves both the interior and the outside terrace.
The clever integration of electrical and mechanical servicing, remedial structural repair and cosmetic works within the outline of the original structure is a triumph. The design also takes advantage of the existing outdoor terraces (remnants of other factory buildings) that broaden the building's potential for public events, private functions and artistic performances.
Read the project review by Helen Norrie from Architecture Australia Mar/Apr 2016.
Source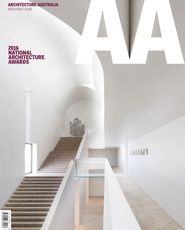 Issue
Architecture Australia, November 2016
Related topics