Jury citation
The beach is one of the most celebrated settings of contemporary public life in Australia, elevating the surf lifesaving clubhouse to the higher order of public buildings in the country. It is no surprise that the function room of the new Kempsey Crescent Head Surf Life Saving Club is hired for weddings, conferences and other events as it is one of the most important and iconic public buildings to be constructed in this small beachside town in the ninety-five years that the club has been operating. In order to protect the club's perpetual crown lease, the new building designed by Neeson Murcutt Architects stands on the exact site of the former clubhouse, despite its random orientation and proportions. The exterior of the clubhouse is made of glistening, robust brick that is simultaneously flamboyant and humble. The execution of its detailing is beautiful and inventive, and its colour palette alludes to a beach narrative.
A large number of functions are packed into this modest two-storey structure. Surf lifesaving operations are located on the ground floor, along with craft storage, lobby and kiosk. A spacious function area on the upper floor occupies the generous volume under the high roof. The form of the building is cleverly truncated, both in defiance of its siting constraint and in recognition that it is experienced "in the round." This subtle manipulation shifts the orientation of principal apertures that address and frame significant landscapes: beachfront, headland, township and creek.
Read the project review by Katelin Butler from Architecture Australia May/Jun 2016.
Credits
Architect

Neeson Murcutt Architects
Sydney, NSW, Australia
Project Team

Rachel Neeson (principal architect); Tamas Jones (project architect); Dominic Broadhurst, Anne-Kristin Risnes (graduates of architecture); Grace Wolstonecraft, Gianna Lui (students)
Consultants

Accessibility consultant Access Associates
BCA consultant BCA Logic
Builder O'Donnell and Hanlon
Electrical & hydraulic engineer Integrated Group Services
Facade engineer Surface Design
Geotechnical consultants Hackett Laboratory Services
Kitchen consultant Austmont Catering Equipment
Land surveyor M. W. Rogers and Associates
Quantity surveyor QS Plus
Safety and risk consultant Safe Design Australia
Security engineers Integrated Group Services
Structural engineer SDA Structures

Site Details
Project Details

Status Built
Category Public / cultural
Type Sport

Source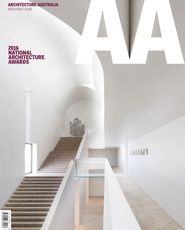 Issue
Architecture Australia, November 2016
Related topics