Jury citation
Each city generates particular kinds of projects and architectural problems. In Melbourne, Victorian terrace houses raise questions of scale, privacy and access to natural light. Melbourne's weather brings another challenge to the design.
In a daring departure from the default response to Melbourne's cold climate, Austin Maynard Architects has responded to this terrace project by opening up the interior of the house to a modest outdoor volume subtracted from the centre of the plan. In this way, the architects ask why shouldn't we engage more openly with the nuances of each setting, including, in this instance, its colder temperatures?
Mills, The Toy Management House is a sophisticated work despite its project title suggesting a singular idea. A complex interior floor terrain provides more than a storage solution for children's toys. At ground level the floor folds up and down throughout the length of the house to generate a series of incidental surfaces for storage or perching. In other places the floor terrain delineates more formal "rooms" and furniture arrangements within the open-planned volume.
This bold and whimsical project makes exemplary suggestions as to how one might (re)-occupy this small historic building type to accommodate the expansive program of contemporary family life.
Credits
Architect

Austin Maynard Architects
Melbourne, Vic, Australia
Project Team

Andrew Maynard, Mark Austin (principal architects); Natalie Miles (project architect)
Consultants

Builder Grand Plan Properties
Building surveyor Code Compliance
Engineer Hive Engineering
Lighting consultant Lights and Tracks
Quantity surveyor Plan Cost
Town planning Song Bowden

Site Details

Location Melbourne, Vic, Australia
Site type Suburban

Project Details

Status Built
Completion date 2015
Category Residential
Type Alts and adds, New houses

Source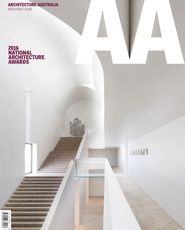 Issue
Architecture Australia, November 2016
Related topics