Jury comment
Integrating ecology, play, stakeholder management, engineering and sustainable water management requirements within an existing and well-loved inner-city park is a difficult brief in any context. The collaborative approach taken to tackling these issues at Sydney Park has successfully addressed them all and led to a highly resolved, considered and thoughtful design. The project beautifully expresses the forms, shapes, context, ecology and management of water, while also focusing on people, place, habitat and ecology. Diverse users coexist easily within the park, which raises awareness of the value of well-managed, well-designed, functional and valuable inner-city green space.
This latest stage in a significant urban renewal project is well conceived and executed. The result is a nationally significant green infrastructure project that responds to the needs of the local community and delivers an educational, scientifically rigorous and enjoyable place.
For more coverage, read Ricky Ray Ricardo's review from Landscape Architecture Australia 150, May 2016.
Credits
Landscape architect

Turf Design
Sydney, NSW, Australia
Project Team

Mike Horne, Adam Hunter, Scott Ibbotson, John Newman, Michelle Parkin, Claire Broun, Ryland Fox, Hussain Karori
Landscape architect

Environmental Partnership
Ultimo, Sydney, NSW, Australia
Consultants

Ecologist Dragonfly Environmental
Environmental management A. D. Envirotech Australia
Irrigation Hydroplan
Lead contractor Design Landscapes
Lighting & electrical Lighting Art and Science
Public artist Turpin and Crawford Studio (Jennifer Turpin, Michaelie Crawford, Konrad Hartmann)
Soils investigation SESL Australia
Structural engineer Partridge, Arup
Water, environmental and civil engineer Alluvium

Site Details

Location Sydney, NSW, Australia
Site type Rural

Project Details

Status Built
Completion date 2015
Design, documentation 12 months
Construction 15 months
Category Landscape / urban
Type Parks, Public / civic

Source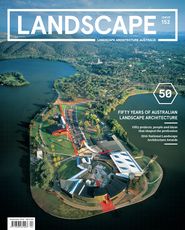 Issue
Landscape Architecture Australia, November 2016
Related topics