2016 Old School / New School
More than 120 of Australia's leading education design practitioners gathered together in Melbourne on 18 May for Old School/New School, a one-day forum about the future of education design.
If there was one thing that attendees of the 2016 Old School / New School forum on the future of education design were to take away from the day, it was that change appears to be the only constant in education. With a rapidly evolving and digitally driven workplace, the classroom, perhaps ironically, appears to be one element defying any real progress. The early Victorian model of stand-and-deliver teaching still largely prevails, leaving educational thinkers and architects to shuffle the pedagogical deck chairs in the classrooms' peripheral spaces.
Presented by Architecture Media, the Design Speaks forum was structured around four keynote sessions, three case study presentations and a final panel discussion. The first keynote session was by Monica Parker, founder of workplace consultancy firm Hatch, who kicked off the day's proceedings quoting Shakespeare's most memorable of soliloquies, Hamlet's call to "take arms against a sea of troubles." For Parker, Hamlet embodies the resiliency (which would become the day's catchphrase) required of those entering the workforce today. In something akin to Buddhism's nine levels of consciousness, Parker outlined the six components of resiliency, being vulnerability, control, mastery, community, perspective and optimism. It could quite easily have devolved into self-help jingo-ism, yet the truths in Parker's messages were obvious and educators would do well to incorporate "resiliency" building into their curriculum.
John Wardle, of John Wardle Architects (JWA), followed with a dizzying montage of his firm's well-known projects, collected under the title "Inflecting Campus & the City." As the title suggests, Wardle focused his presentation on the dialogue educational buildings can have with their context, both in the micro sense by drawing inspiration from the specificities of place, and the macro sense through exploration of the opportunities each project has to enrich the urban experience. Interestingly, the presence of a retail-like condition surfaced on more than a few of JWA's projects. Themes like "activating the footpath edge" and exposing the building program to create "shopfronts" highlighted a shift toward the deinstitutionalization of education buildings to make them more relatable.
Following the morning's keynote addresses were a series of short, sharp and illuminating case studies. Libby Guj of Perth's JCY Architects and Urban Designers presented an opposing position to Wardle's intensely urban experience, one where schools and remote, isolated sites that are nearly always devoid of context are used as the catalyst for the growth of new communities. Guj also highlighted the opportunity for education facilities to engage socially, providing JCY's Ngoolark Student Services building for Edith Cowan University building as an example that bridges the gap between the institution and local indigenous community.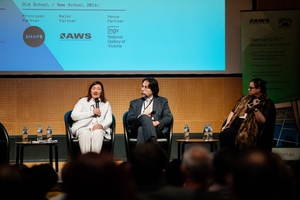 Debbie Ryan from McBride Charles Ryan (MCR) spoke of three principals – pedagogically driven space, identity and architectural typology. Projects such as Templestowe Primary highlighted identity, using the building to raise the profile of the school within the community and successfully reversing a flagging enrolment. Penleigh and Essendon Grammar School highlighted MCR's pedagogically defined approach while Ivanhoe Grammar typified experiments in architectural typology, taking inspiration from petri dishes and geode crystals to create a drum-shaped building with an explosively colourful sense of interiority.
Marco Berti from University of Technology Sydney followed Ryan with a humorous, insider's study into the development and occupation of Frank Gehry's Dr Chau Chak Wing Building at the university. The journey – from the dysfunctional former school with a new Dean, the securing of a "starchitect" and benefactor, through to the impact the building has had on the school – was fascinating. Berti's study revealed the need for organizations to develop their briefs thoroughly and not expect, however talented the architect, for the design to somehow resolve internal struggles.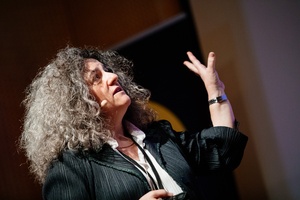 Following lunch, Michal Cohen of UK-based Walters and Cohen Architects, began with a sheepish apology for the European "restraint" of her practice's work before presenting an incredibly informative dissection of their education projects. Cohen noted that constant research, most notably assessing their own completed projects, was fundamental to their approach. Cohen elaborated on the wide-reaching effect of government policy before delving into spatial specifics such as eliminating corridors, controlling acoustics, creating internal plazas and always including wide civic scale stairs. Their research into how students each learn in individual ways results in spaces that are flexible, easily adapted by all kinds of students, from the bold, autonomous learners through to the introverts.
Jan Owen of the Foundation for Young Australians rounded out the presentations with an incisive look into the challenges facing our next generation of students. Bookending Monica Parker's broad introduction, Owen also cited resilience as key, before immersing the audience in statistics that highlighted the need for schools to focus on digital skills, a strong sense of career management and also enterprise, citing a raft of examples of young achievers successfully developing and marketing themselves from a very young age. This is no longer the age of falling into a single job and slogging it out until retirement, Owen extolled.
The day concluded with an insightful panel discussion hosted by Parker and included her fellow keynote speakers: Wardle, Cohen and Owen. Parker ended the discussion by asking the panel what one thing people should take from the day. Cohen didn't hesitate with a call to architects and educators to "start listening," Owen followed with "find your tribe," Wardle advised to "be authentic to place" and Parker herself asked people "to be kind." Attentiveness, community, authenticity and compassion – each a good starting point for our schools of the future.
Old School/New School, presented by Architecture Media, is part of Design Speaks, a series of talks, seminars, forums and conferences on and about architecture and design, for design professionals and their clients and interested members of the wider community.
Old School/New School is supported by principal partner Shape, major partner Architectural Window Systems and Design Speaks Symposia 2016 presenting partner Taubmans.