Acute House by OOF! Architecture and Ngarara Place by Greenaway Architects are among the winners of the 2016 Victorian Premier's Design Awards.
Award categories included Architectural Design, Service Design, Industrial and Product Design, Communication Design, Digital Design and Design Strategy.
Acute House by OOF! Architecture received best in category for Architectural Design.
Celina Clarke, chair of the Premier's Design Awards jury, said, "The severe limitations of a tiny triangular site and the demanding heritage context have resulted in a pointy 'wedge house' that is designed to exploit its 'problem site.'"
"Acute House highlights the role of good design in tackling a site conventionally dismissed as 'too small' or 'too weird' to be viable," she continued. "The resulting house covers 100 percent of the site and provides a high quality and compact three storey, three bedroom family home distributed over 145 square metres."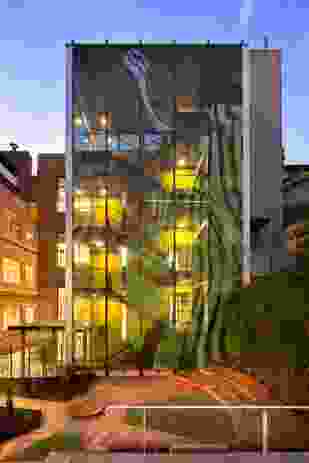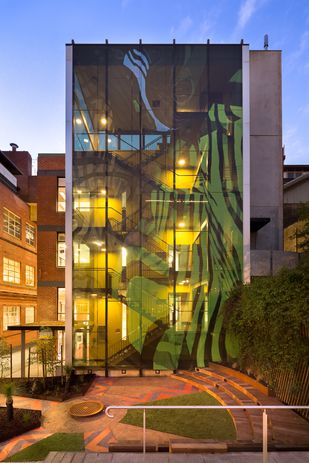 Greenaway Architects' Indigenous Placemaking Strategy for Ngarara Place at RMIT University received best in category for Design Strategy.
Greenaway Architects is "a multi-disciplinary design practice inspired by a design methodology 'Indigenous Placemaking.' This approach embeds a collaborative environment that seeks to break down the typical silos of design to infuse a holistic design strategy," Clarke said.
"Ngarara Place united the specific skills, capacities and cultural connectedness of three key Aboriginal practitioners (an architect, a landscape designer and an artist) to deliver a project that infuses Indigenous sensibilities," said Clarke.
Ngarara Place was conceived through an immersive process of dialogue with the client, consultation with the Wurundjeri Tribe Land Compensation and Cultural Heritage Council.
"The success lies in how the space has been embraced and used and the opportunity to continue a dialogue around celebrating Aboriginal art and culture," said Clarke.
Other winners included Oi: The Knog Bike Bell (2016 Premier's Design Award of the Year), The 2 Litre Towel (Communication Design), ANZ Virtual Garden (joint winner, Digital Design), Thankyou's Track Your Impact (joint winner, Digital Design), fashion label SZN (Fashion Design), Blackmagic Micro Camera (Product Design) and 122 Roseneath Street (Service Design).
Related topics