Jury comment
Although Brad Swartz won the Apartment or Unit category at the 2015 Houses Awards, he is still very much a new player, having established Brad Swartz Architects in May of that year. While it's his only major accolade to date, the jury predicts many more to come.
Swartz's current portfolio predominantly consists of apartments and his two entries in the Residential Design category, Milson's Point Apartment and Darling Point Apartment, exemplify his elegantly restrained aesthetic and beautiful detailing. The jury is impressed by his philosophy, which advocates a less-is-more ethos by making small spaces work harder. While the Milson's Point project is only sixty-one square metres and Darlinghurst Apartment (the winner of the aforementioned Houses Award) is a tiny twenty-seven square metres, both function super efficiently.
His passion for small-footprint living responds to Australia's housing affordability crisis and offers solutions. The jury greatly appreciated the intellectual rigour with which these stylish projects are delivered. Swartz's apartment designs are playing an integral part in fulfilling the current and future needs of homeowners, both young and old alike.
Design statement
Principal Brad Swartz, aged thirty, established Brad Swartz Architects in 2015 following his Darlinghurst Apartment winning and being shortlisted for a number of awards. Since then the practice has completed eight projects and focused on bespoke residential designs, relating uniquely to the client's brief and encouraging density within our cities. Brad Swartz Architects believes Australian architecture must borrow from the housing philosophies of other successful urban cultures, for example Japan and Scandinavia, to help our cities grow sustainably through the inevitable increase in density. Two over-arching principles will be key: a function-driven approach to interior planning, and the re-use of existing buildings. The studio aims to inspire people to choose living in small, beautiful spaces, where design, not size, determines quality of life. This manifests itself in a growing portfolio of unique projects of all sizes, with meticulously detailed designs to maximize function, light and a feeling of space.
The Emerging Interior Design Practice award is supported by Space. The Australian Interior Design Awards are presented by the Design Institute of Australia and Artichoke magazine. For more images of this project, see the Australian Interior Design Awards gallery.
Source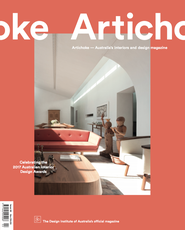 Issue
Artichoke, June 2017
Related topics