Jury comment
Egyptian Mummies at Sydney's Powerhouse Museum takes visitors on an emotive and highly experiential journey. Showcasing six Egyptian mummies from the British Museum's collection, this temporary exhibition's planning impressed the jury because it is simply sensational. A logical sequence of space flows from room to room, creating a sense of discovery, heightened by the dramatic play of light and dark, and the use of rich immersive colour.
The jury was equally impressed by the installation's strong atmospheric qualities and ability to talk of the human condition through the use of CT scans of mummies and full-height location photographs that evoke a sense of dry heat and dust. The central space unifies the exhibition and while there's clear hierarchy to the overall display, smaller details are never diminished. There's a lot of complex information to take in, but intelligent curating ensures the exhibition is easy to access. Each component, including the integrated digital technologies, has something to commu nicate to every visitor, making the exhibition compelling at both a micro and macro level.
Design statement
Egyptian Mummies: Exploring Ancient Lives brings six Egyptian mummies from the British Museum's collection to the Powerhouse Museum. The exhibition uses colour, space, lighting and technology to bring this evocative ancient world to life. The exhibition sought to create individual, human connections between visitors and six ancient Egyptians. Each of the mummies is presented alongside a human-scale digital CT scan, allowing analysis while preserving their original condition. The focus was on creating an experiential, immersive interior appropriate for the prestigious content, playing on concepts of solid and void, colour and light. The human relationship to the mummies is reinforced through consciousness of physical scale, expressed through architectural exaggerations of width, depth and height. Spatial relationships were designed to create intimacy between visitors and the mummies, as well as moments of drama and anticipation.
The Award for Installation Design is sponsored by Bespoke Careers. The Australian Interior Design Awards are presented by the Design Institute of Australia and Artichoke magazine. For more images of this project, see the Australian Interior Design Awards gallery.
Source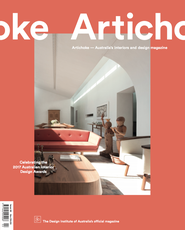 Award
Published online: 9 Jun 2017
Images: Brett Boardman, Studioplusthree
Issue
Artichoke, June 2017
Related topics