Jury statement
Paramount by The Office Space provides serviced offices that feel like home for professionals who appreciate good design. The project lives up to its name as an exemplar of the kind of private nest that knowledge workers dream about. The offices are small, perfectly crafted pieces of joinery furnished with a collection of art and artefacts sympathetic to the cues provided by the heritage building.
The designers challenged existing conventions of workspace proportions and created spaces of about three square metres per person for individuals or small groups. The absolute attention to detail in the project was made possible by a genuine partnership between the design and fitout from workshop phase to on- site construction.
The iconic Paramount building provided a perfect template reminiscent of New York in the 1950s with a rich, warm palette of natural materials. Upon entry, the original materials of Queensland maple and terrazzo have been retained and have set the tone for the choice of finishes and focus lighting found in the work pods. The high ceilings provide a spatial balance in the personal workspace environments.
The connection to the external landscape provides a visual continuation of space beyond the interior workspace environment. With coffee shops and a park nearby, the users speak compellingly of the nourishment that this community offers; thoughtful service and curated events are providing the glue that brings people together.
Design statement
Paramount by The Office Space represents an evolution in shared workplace design where an iconic building, collective design and quality of craftsmanship amalgamate to create an unparalleled workplace environ-ment. Its reinterpretation recognizes and celebrates the original fabric of the building, offering a simultaneously functional and aesthetically attractive shared working experience. Responding to the inherent challenges of the site, heritage constraints and the client's need to be financially viable, Paramount has achieved a successful collaborative economy within and beyond its walls, redefining the potential and expectations of a shared workplace. A shared space required Paramount to be as inclusive as it was exclusive. Where many offices rely on open workstations or activity-based working strategies to boost space utilization, Paramount recognizes that dedicated suites are essential to focused work and a sense of permanence. It elevates the sanctity of personal space, maximizes the value of a small footprint and achieves a new working concept for established professionals. A model for the future of shared workspace design, the project's commercial, social and cultural success has led to the owners being approached by property developers to implement similar iterations across Sydney and interstate.
The Interior Design Impact award is supported by Business Interiors. The Australian Interior Design Awards are presented by the Design Institute of Australia and Artichoke magazine. For more images of this project, see the Australian Interior Design Awards gallery.
Source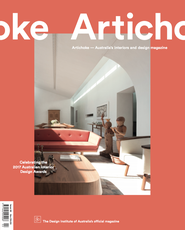 Issue
Artichoke, June 2017
Related topics