Jury comment
While this project stands head and shoulders above the other shortlisted entries in its category, it also does across the board. The client wanted "the best house in the world" and she arguably got it in the form of a sculpture to be lived in.
Indigo Slam is ambitious in scale, plan and gesture and its artisanal delivery is defined as much by a sense of thoughtful restraint as it is by immaculate detailing. The architect eschewed digital technology in favour of mechanical operation and this is expressed through an obvious high level of craftsmanship. Working with the client's request for no curtains also gave rise to the design's compelling use of light. As Indigo Slam's key decorative element, it's unmiss- able. It playfully splices the ceiling, austerely revealing every expertly handled curve and dramatically highlighting the grand three-storey staircase.
This project is a private residence, but also hosts events for the client's art gallery, celebrating unconventional domesticity through dual functionality. Indigo Slam is a sophisticated and intelligently designed home and its place in the reactivation of its inner-city Sydney neighbour-hood cannot be underestimated. The jury can not fault it in any way.
Design statement
A piece of sculpture to be lived in, this project in Sydney's Chippendale creates an inspiring residence for an art collector. Behind a facade of sculpted concrete, serene living spaces and monumental halls create a dynamic spatial interplay of spare interiors in which the main decorative element is light. The house sits comfortably in a context of mixed scales and uses. On approach from the street, a steel screen opens to lead the visitor into a generous vestibule. The space then compresses to a low and narrow corridor before suddenly opening to a cavernous stair hall lit from concealed roof lights. This unique room is grand and austere in its size and sparseness, but inviting and enticing as it leads one upwards through the building.
The Premier Award for Australian Interior Design is supported by Dulux. The Australian Interior Design Awards are presented by the Design Institute of Australia and Artichoke magazine. For more images of this project, see the Australian Interior Design Awards gallery.
Source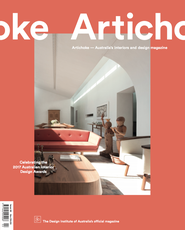 Issue
Artichoke, June 2017
Related topics